It is mandatory to link our Aadhaar card with PAN number in order to process our Income Tax returns. Also, a banking transaction over Rs.50,000 cannot be done unless the Aadhaar cards are linked to our bank accounts. Hence, we must not delay in getting this simple process done. The government has come up with a lot of ways of -PAN card linking aadhaar card.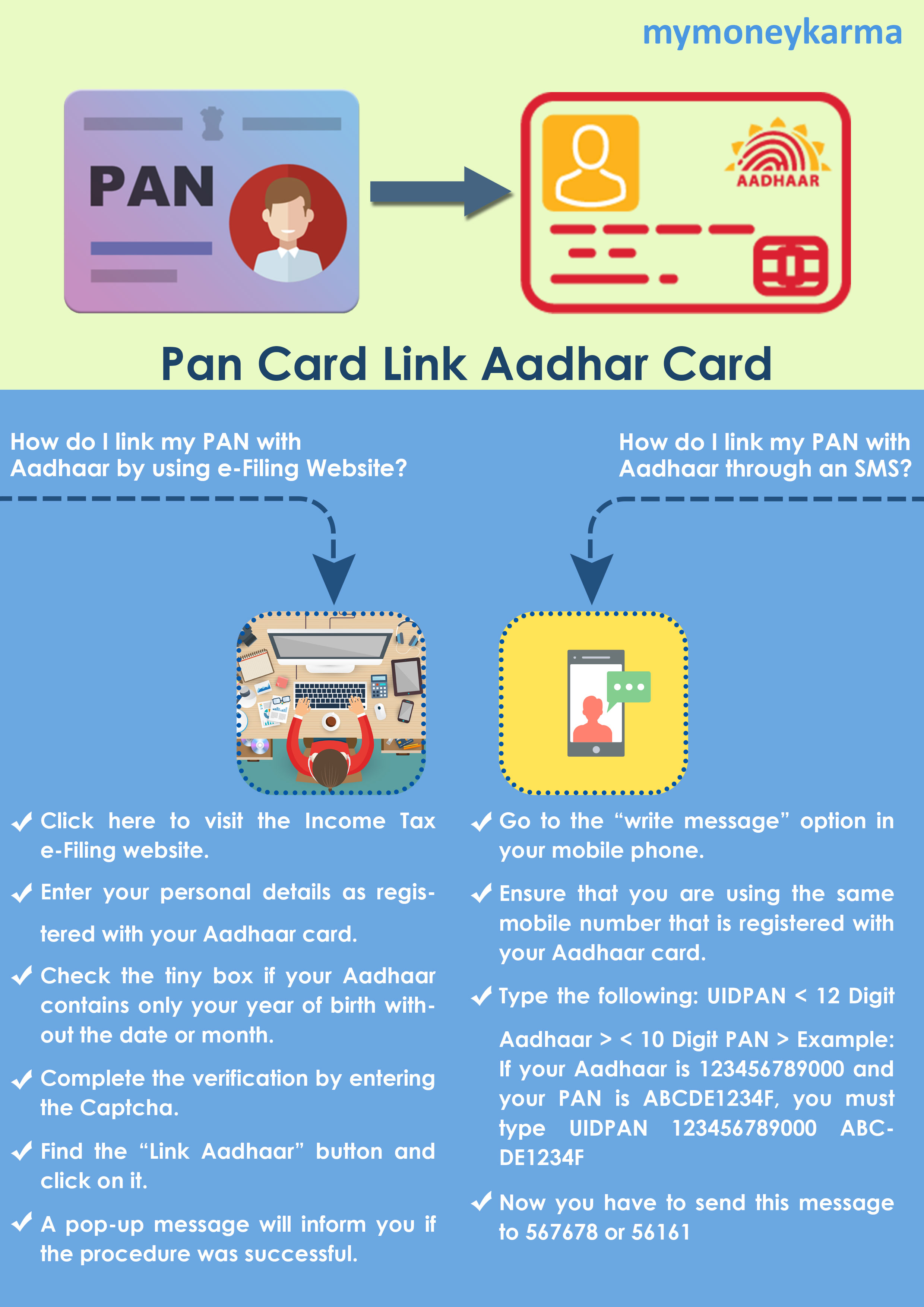 Final Deadline Update
31st March 2021 has been set as the deadline for linking PAN and Aadhar, by the Income Tax Department. On failing to link Aadhar and PAN before the last date, the PAN card will turn inoperative from 1 April. If someone tries to use a PAN card that has turned inoperative, they may also be fined ₹10,000. The declaration came from CBDT (Central Board of Direct Taxes) in a notification on February 13, 2020.
PAN is an essential element in many financial transactions, such as property sale, banking transactions, investing in stocks/mutual funds, etc.
How do I link my PAN with Aadhaar by using e-Filing Website?
Visit the Income Tax e-Filing website.

Enter your personal details as registered with your Aadhaar card.

Check the tiny box if your Aadhaar contains only your year of birth without the date or month.

Complete the verification by entering the Captcha.

Find the "Link Aadhaar" button and click on it.

A pop-up message will inform you if the procedure was successful.
How do I link my PAN with Aadhaar through an SMS?
Go to the "write message" option in your mobile phone.

Ensure that you are using the same mobile number that is registered with your Aadhaar card.

Type the following: UIDPAN < 12 Digit Aadhaar > < 10 Digit PAN > Example: If your Aadhaar is 123456789000 and your PAN is ABCDE1234F, you must type UIDPAN 123456789000 ABCDE1234F

Now you have to send this message to 567678 or 56161
What should I do if I cannot link my PAN with Aadhaar?
The Income Tax Department has mandated that all Indian citizens must link their PAN with Aadhaar by 30th of June 2018, failing which their PAN cards will be deactivated. The details in both must match; otherwise, one must get such discrepancies rectified immediately. If the linking fails, then there's surely an error or mismatch somewhere. It is imperative that you find out the error and get it rectified by the process mentioned below.
Can I correct errors while linking my PAN with Aadhaar?
You must know that linking PAN with Aadhaar succeeds only if all your personal information and details in both of these documents match perfectly. The process will fail in case there is any error. The UIDAI Website and the portal of NSDL PAN offer a chance to rectify any error in Aadhaar or PAN respectively. This is an easy way to get these corrections done
PAN
To correct mistakes in your PAN card, visit the official website.

In the drop down list of "Application Type", select "changes or correction in existing PAN data".

Fill in the other details correctly. They should match exactly with the details in your Aadhaar card.

Submit the required documents and your details will be updated.

Once the NSDL website confirms, you may proceed on to linking your PAN with Aadhaar.
Aadhaar Online
Visit the Aadhaar correction webpage.

Enter the security code and your Aadhaar number.

You will receive an OTP in your registered mobile.

A change in the spelling of your name can be made using an OTP.

Supporting documents are required as proof in case you wish to make changes in your date of birth or gender.

You can link your Aadhaar and PAN card after this process is approved.
Aadhaar Offline
Go to an Aadhaar Enrolment Center.

Take a self-attested photocopy of the proof of Identity along.

Get the Aadhaar enrolment form and fill it correctly.

Submit the form as well as the documents

An acknowledgement slip containing the updated request number (URN) will be issued.

Use this URN to check the status.

You can link your PAN with Aadhaar as soon as the request is successfully processed and the error is corrected.
You might have to pay a nominal fee of Rs.25/- to make such rectifications.
Why should I link my PAN with my Aadhaar card?
The following are the benefits of linking your PAN with your Aadhaar:
The Income Tax Department has mandated that all Indian citizens must link their PAN with Aadhaar, failing which, the PAN card may be deactivated.

You cannot file for Income Tax Returns if you don't link your PAN with Aadhaar.

Getting this done will help the government in handling the problem of people holding multiple PAN cards illegally.