Established in 1908, Bank of Baroda or BoB has a network of over 5000 branches in India and abroad. It offers various products and services related to consumer banking, private banking, credit cards, corporate banking, investment banking, finance and insurance, mortgage loans, private equity, wealth management, stocks, etc. Bank of Baroda share price has also performed quite well over the last few years (Click here to check BOB share price). Bank of Baroda has always been a trusted bank among the Indian populace, and it offers a lot of convenient facilities.
Bank of Baroda offers its customers an internet banking facility called 'Baroda Connect,' introduced by the bank as an alternative channel for providing efficient and effective customer service. This 24/7 unique online service can be customized for use by both corporate as well as retail customers. Bank of Baroda savings account customers can access their accounts either through the internet or mobile phone. It is a round-the-clock global banking service that makes banking a convenient and hassle-free experience.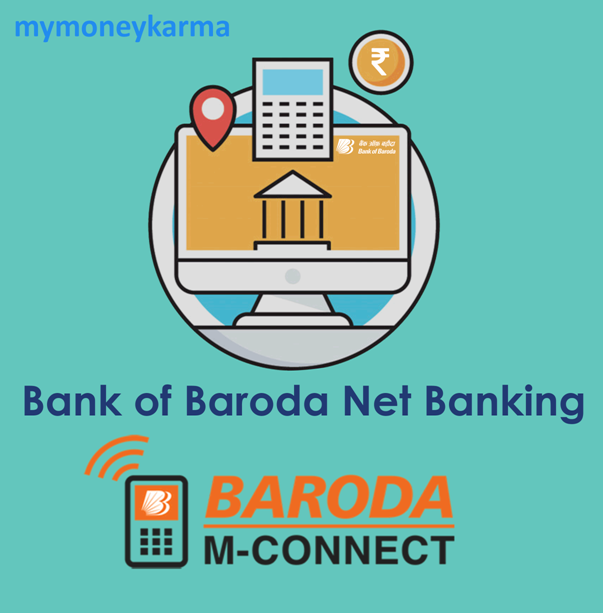 Features of BoB Net Banking
Bank of Baroda or BOB allows its customers to carry out various financial as well as non-financial services online, without physically visiting the bank. Some of the features of BOB Internet Banking are:
View Facility

Account Access– Using internet banking, you have instant access to your bank account by simply visiting the bank's website at www.bankofbaroda.com and logging in to BOB internet banking using your user ID and password. A successful log-in allows you to view your savings account balance and statement of account.

Transaction History– You can login to your account and generate the transaction history of the last two months in your account at any given point in time.

Issuance of Cheque Book– You can also request for a new cheque book online via internet banking services of the bank.

Check Status of Cheque Book Request – By logging on to the BOB Internet Banking Services or Baroda Connect, you can also keep track of your cheque book request.

View Multiple Account Information– Using these online services, you have access to more than one account, using a single user ID, if all the accounts belong to you.

Account Summary of Deposit, Operative and Loan Accounts – You can also connect virtually to all your BOB accounts such as loan account, deposit or operative account.

Transaction Facility

Fund Transfer– Customers of BOB can do an online fund transfer using the internet banking facilities provided by the bank's website. Transfer to your own accounts as well as third-party transfers are possible via this mode. You can also schedule a fund transfer for a future date either to self-linked accounts or third-party.

Utility Bill Payment– Through Baroda Easy Pay, BOB customers can easily make their utility bill payments for electricity, telephone, credit card, etc. Other services such as travel bookings, online subscriptions and donations can also be paid for, using BOB internet banking.

Online Tax Payment– Baroda Connect also allows you to pay your direct and indirect taxes online including service tax, income tax, customs duty, excise duty, and others.

School or Institution Fees– There is no need for BOB customers to stand in long queues to pay educational fees for schools and institutions. Through Baroda Connect, even this process has been simplified.

IRCTC Booking– Railway tickets can also be booked via BOB's Baroda Connect. The bank's website redirects you to the IRCTC website, where you can log in and book your travel ticket online.
How do you register for Bank of Baroda Internet Banking?
If you are logging in for the first time, you are required to follow the steps given below: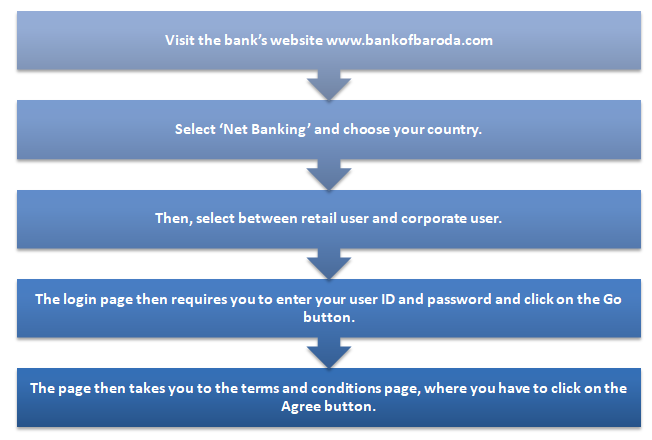 Bank of Baroda Internet Banking FAQs