EPFO
EPFO or Employees Provident Fund Organisation is a statutory body which comes under Ministry of labour and employment, created by Government of India.It has been established to assist Central Board of Trustees and is India's largest social security organisation as it undertakes a large number of beneficiaries and covers high financial transaction volume.EPFO is also the centralised agency for execution of bilateral social security agreements with other countries.
Under "The Directives Principles of State Policy" constitution of India has set the guidelines for every state for making effective provision to secure the right to work,to education and assisting public in cases of unemployment,sickness and disability.With the enactment of Employees provident fund Ordinance in 1951,EPF came in to existence.This bill was introduced in 1952 for provision of provident fund to employees working in factories.Employees' Provident Funds and Miscellaneous Provision Act enacted in 1952 as the law to govern EPF by the Parliament,which is applicable everywhere except Jammu & Kashmir.Under this act, all the schemes get administered by a governing body,The Central Board of Trustees which takes all relevant decisions for the execution and implementation of different schemes under the programme.
There are several EPF forms available on the EPFO site which can be accessed by the employees under different circumstances.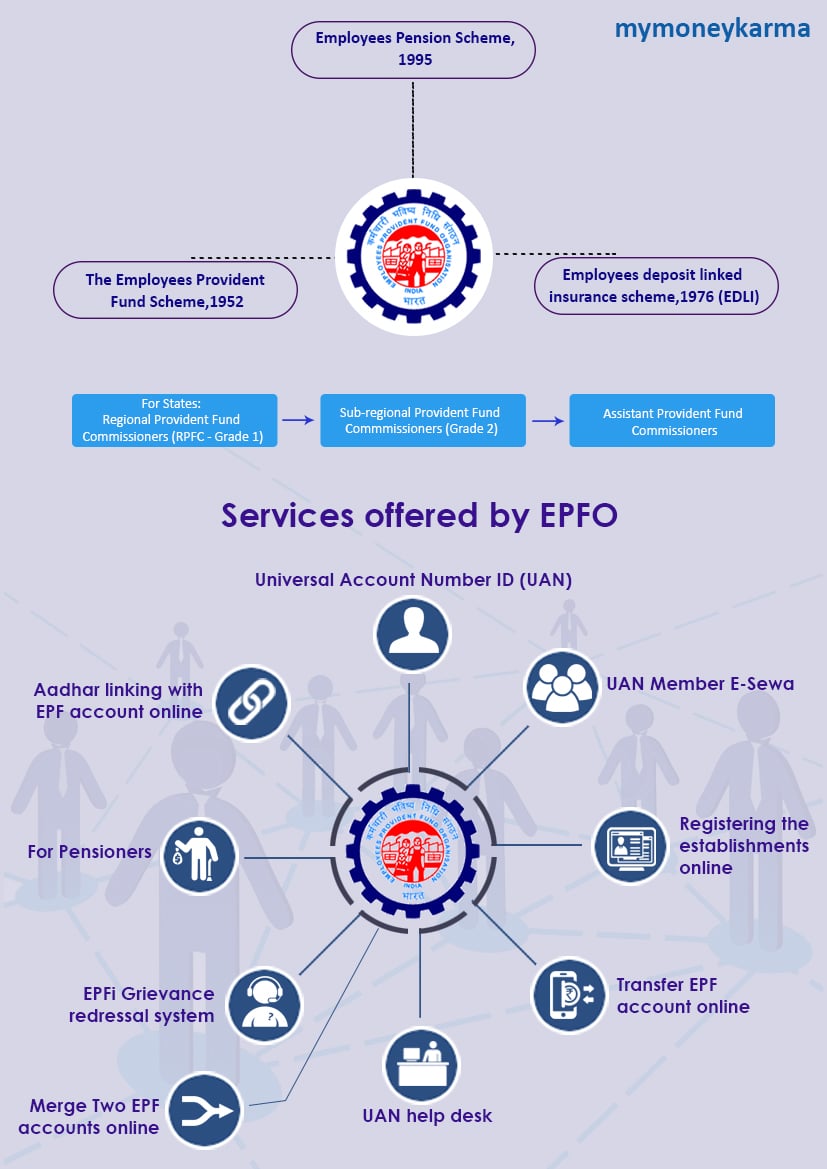 Structure & Function of EPFO:
The Central board of trustees(CBT) has representatives from Central as well as the State government,Employers and Employees and it's presided over by the Ministry of Labour and Employment.
The CBT takes care of the execution of three schemes:
The Employees Provident Fund Scheme,1952

Employees Pension Scheme,1995

Employees deposit linked insurance scheme,1976 (EDLI)
EPFO's work is segregated into different zones chaired by Additional Provident Fund Commissioner in every state of India.Each state contains a Regional office headed by The Regional Commissioners(RPFC,Grade 1)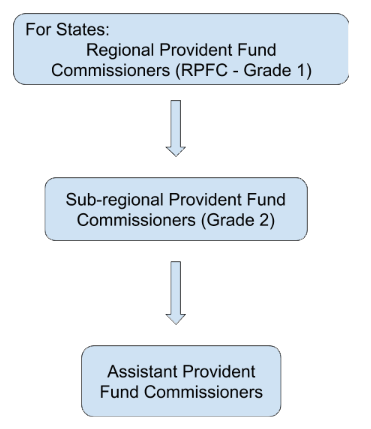 For district offices,there is an enforcement officer who looks after local establishments and grievance redressal.
The functioning of EPFO includes the imposition of act all over the country except Jammu and Kashmir,individual accounts maintenance,claims settlement,funds investment,instant payment of pension and records updation.EPFO has adopted several IT enabled tools and techniques along with various digital initiatives to simplify EPF accounts for employers as well as employees.
Services offered by EPFO:
List of factories explaining the type of establishments, which are following the rules and regulations mentioned in the act in detail, comes under schedule one of Employees' Provident Funds and MIscellaneous Act,1952.Companies having more than twenty employees mandatorily need to take part in this scheme in which most of the activities can be done online as alleviated by EPFO.The online services provided by EPFO are as follows:
Universal Account Number ID (UAN):

EPFO introduced UAN for all of its members.This number allows the transfer of PF accounts from one employer to another removing the dependence of an employee on the employer for EPF balance withdrawal.This number is unique and allows it's member to check all EPF accounts from different employers.Through this number, a member can also close the old account and transfer balance in to new one,but the number provided by employer need to be activated.

There are five steps to activate UAN number:

Get the UAN and member id from previous employer for activation.

Visit the EPFO website and press "activate your UAN based registration button" which will open to the instructions page,there select " I have read and understood instructions"

Enter the UAN,member ID and mobile number and select the state and PF office from drop down options.Then click on "Get pin" after completion of details.

A pin will be sent to the registered mobile number which need to be entered for activation.

After activation,create a user id and password for using UAN services provided by portal.

UAN Member E-Sewa:

Now employees can register for e sewa service using their UAN number.Through this sewa employees get facilitated for various services such as UAN card download,KYC information updation,getting account passbook linked via UAN.

Registering the establishments online:

The companies could register through online registration of establishments portal(OLRE).This online portal has been introduced for allocation of PF codes.Any queries in relation to registering online and getting PF codes can be sorted by reaching to help desk-1800118005 which is available on working days from 9:45 a.m to 5:15 p.m.For the application process,employers need to upload a digitally signed document along which Pan details will also get verified.The establishments who are eligible for this process can be categorised in to:

Those listed under the list of factories provided as per PFMPA,1952.

Those who don't come under the eligibility criteria but have majority of employers and employees who wish to participate.

Those establishments who already have a PF code but need another one for their sister concern or branch.

Transfer EPF account online:

This procedure is to increase transparency for employees to get accounts transferred and making submission of transfer claims from previous or current employer convenient through the portal.For this process,digital signature of authorised person is mandatory.

UAN help desk :

For employers there is a separate UAN help desk,where the employers can register by providing information such as establishment id,PF office address,extension code if any and the registered mobile number as per ECR portal

EPFi Grievance redressal system

There is a portal known as grievance management system (EPFi) for the employees who are looking for a solution to their grievances.Grievance can be registered by filling the registration form online where the information status(Employer,Pensioner,Employee),name of organisation,address,EPFO office,name of complainant address,phone number and mail id need to be filled.The categories which can be chosen under this category are Final settlement/PF withdrawal,transfer of PF accumulations (F-13),scheme certificate(10C) pension settlement (10D),PF balance issue,Insurance payment benefit.Once the complaint has been registered and if still no response has been received,a reminder can be sent to the organisation through same portal.

For Pensioners:

Pensioners can also access the portal to enquire about pension.There are few details which need to be filled for this process like address where establishment is present,date of birth,code of employer.Submit the query to get the further details.

Aadhar linking with EPF account online:

EPF helps employees in saving some amount of their salary,which they receive at the time of their retirement.The savings under it are tax free.Aadhar - EPF linking, make the procedure of detail verification, a lot easier for the account holders.

Now how to link aadhar with EPF,here is the process:

Fill UAN and mobile number details to generate OTP.

Type the OTP you received on mobile number and select gender.

Put the aadhaar number in the next step and click on "aadhaar verification" method.There are two options to choose from:

For knowing more about benefits of Aadhar Card Linking

Merge Two EPF accounts online:

Open the website of EPFO.

Select "services".

Select "one employee-one EPF account" in service tab.

Enter details such as UAN and phone number.

Select "generate OTP" and the OTP will be sent to registered mobile number.

Verify OTP after filling the details.

Put the details of old EPF account you are looking to merge.

The declaration need to be accepted for the completion of process.