Punjab National Bank offers internet banking facilities to its customers for several banking-related products and services. The customers of PNB can access the internet banking services from the comfort of their homes or offices. Through PNB online banking, customers can indulge in online transactions. They can also monitor their PNB savings bank account statements from anywhere. Other online services that are offered by PNB include opening new accounts online, making credit card bill payments, paying utility bills online, etc. PNB also offers the internet banking services to its NRI customers.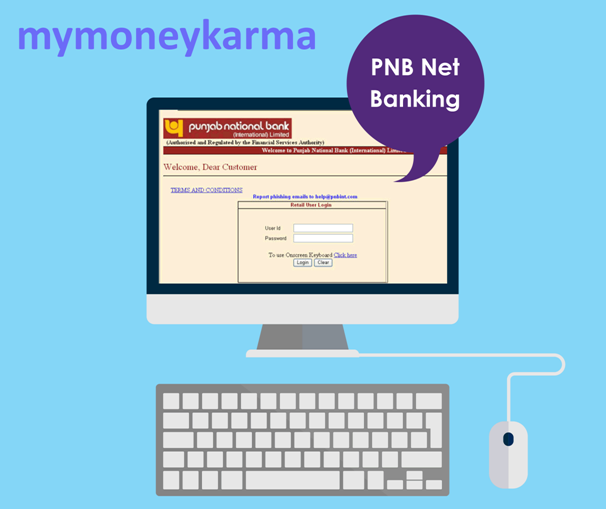 PNB Internet Banking: Services Offered
Customers can carry out several financial services online with PNB internet banking, without visiting the bank in person. These services can be carried out without any hassles in a few seconds.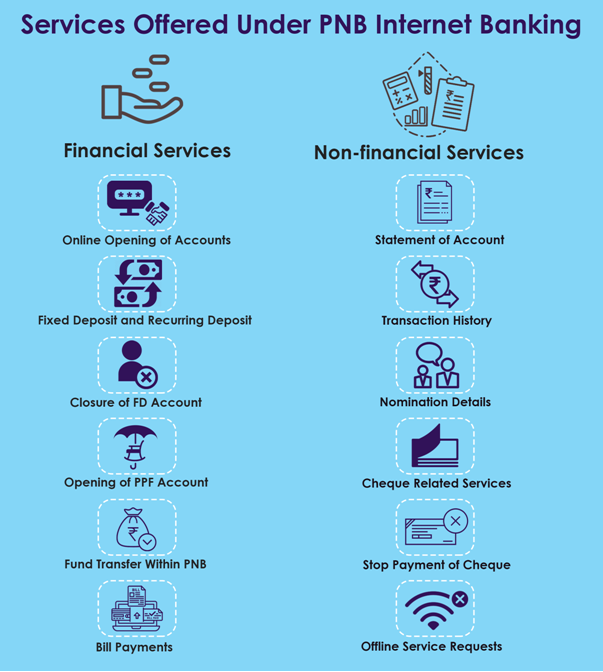 Financial Services

Some of the financial services offered by PNB online are:

Opening Accounts Online:

Fixed Deposit and Recurring Deposit - FDs and RDs can be created online using PNB's internet banking service.

Closure of FD Account - The online banking services of PNB can be used to close an existing FD account with the bank.

Opening of PPF Account - One can also open a PPF account with the help of the internet banking facilities of PNB.

Fund Transfers Within PNB:

Fund Transfer to Own Account - Funds can be transferred between self-accounts within PNB using PNB's internet banking facility. You can also transfer funds from your PNB to another account held with another bank through this facility.

Fund Transfer to Third Party - Customers of PNB can send funds to the bank accounts of others to any bank.

Interbank Fund Transfers - PNB's internet banking services give a customer access to NEFT, IMPS and RTGS transfer facilities. These facilities are available 24x7, including all holidays.

Utility Bill Payments:

PNB customers can also pay their utility and other bills without going through any hassle, with the help of the bill payment facility of PNB's internet banking facility. Bills for various services such as electricity, telephone, credit card bills, mutual fund investments, etc. can be easily paid through PNB's internet banking.

Tax Payments:

Tax payments can also be made quickly via PNB's internet banking facility.

Non-financial Services:

There are other non-financial services that are also available to the customers online.

Account Details:

Statement of Account –You can view your account statement that displays all your transaction details. The statement of account can be accessed online.

Transaction History –PNB gives online access to your account's transaction history. This enables you to have an idea of the transfers made, funds received or sent, etc.

Nomination Details –Customers can also view nomination details of the account online.

Cheque Related Services:

Raising Cheque Book Request –PNB internet banking users can raise a cheque book request by simply logging on to the net banking webpage of the bank.

Cheque Status Inquiry –Through net banking, you will be able to find the status of the cheque issued by you.

Stop Payment of Cheque –If you want to stop payment of a cheque issued by you, you do not have to visit the branch or make numerous calls. This facility is also available online.

Offline Service Requests:

Certain offline service requests can also be made online via the bank's net banking facility. They are:

If you are looking to change your credit card limit, you can do that in a jiffy through PNB internet banking.

Redemption of reward points earned on your credit card is also possible through the bank's website.

PNB customers can also renew their FD accounts as well as withdraw them whenever they want to.

E-statement registration can also be done using net banking facilities of the bank.

There are various other bank products that one can apply for, using PNB's internet banking facility.

Other Value-added Services:

PNB internet banking facility allows you to avail of several other value-added services, such as:

Resetting of password or online registration.
Setting recurring transactions.
Scheduling future transactions.
Income tax e-filing.
PNB Debit Card personalization and hotlisting.
Improved security features such as setting transaction limits as per your preference.
There are many ways through which PNB customers can register online for PNB internet banking. They are:
Visit Branch: Download Form PNB – 1085 from the internet banking website www.netpnb.com and submit the request at the bank branch.

Contact Call Centre: You can call the call centre of PNB to place your request to register for internet banking. Call Centre numbers are:

Toll Free Numbers – 1800 103 2222/1800 180 2222
Tolled Number – 0120 2490000

Register Online: PNB Debit card holders can register themselves for internet banking by visiting the bank's website www.netpnb.com or through the bank's corporate website link www.pnbindia.in

Through ATM: PNB customers can also register for internet banking through any of the bank's ATMs.
Online Registration for PNB Internet Banking
This is the process to register for PNB's retail internet banking service:
Visit the bank's official website at www.netpnb.com
Click on 'Retail' tab and select 'New User'
Select 'Internet Banking' or 'Mobile Banking' or both
Enter your account number
Select 'Type of Facility' and choose whichever facility you require from 'View Only' or 'View & Transaction' options
Enter OTP received on your registered phone number.
Enter your debit card number and your ATM PIN.
Set your login password and/or transaction password.
Upon successful registration, you will receive a message showing your user ID.
User IDs created online are activated immediately.
Note down your user ID and start using the services.
PNB Internet Banking FAQ