A credit card is a plastic card that a financial company/bank issues to the users for enabling them to borrow funds from the bank to pay for daily expenditures like utility bills, mobile bills or buying other goods and services on the condition that the user will pay back the amount to the bank within the due date and maybe with an additional interest. The spending trend is changing at a fast pace. Earlier, credit card usage was restricted to making large transactions. However, people utilize credit cards for daily purchases these days as they are gaining awareness on the usage and benefits of credit cards. A single user often has multiple cards from different banks to enjoy the benefits offered by different card issuers. Banks issue credit cards mostly in association with a card network, like Visa, Master card, Discover, American Express, RuPay, etc. Credit cards can be differentiated on the basis of incentives and rewards provided to users.
There are two modes for credit card bill payment that users can opt for as per their convenience, and these are further categorized into different features:
Online

Offline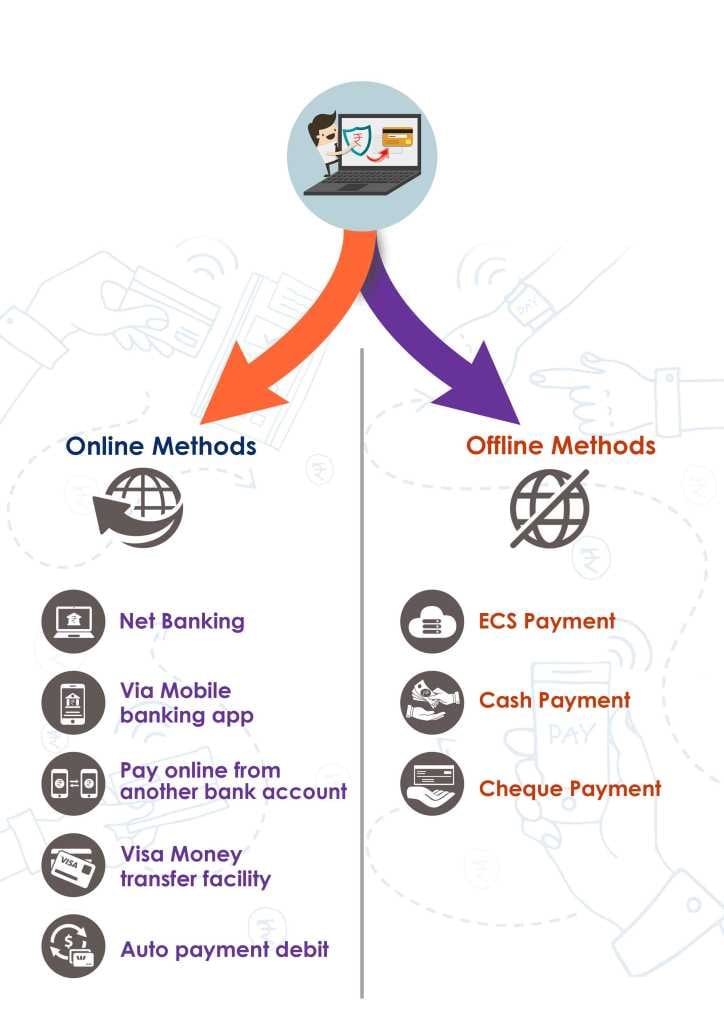 Online Methods

As everything is getting digitized today, people are becoming more and more tech savvy to savecost and time. Hence, the banks are also adapting to this digital revolution and have expanded their features, offering several online facilities for people to use. Here are the different ways of using online payment mode for credit card bill payment:

Net Banking:

Net banking facility can be availed by users only after registering online. To check the outstanding of credit card and to pay bills, the user is required to link their credit card with their net banking account, for which ATM pin details would be used. After linking the credit card with net-banking account, the user would be able to check billed or unbilled transactions, due dates, reward points, etc. by simply logging on to the net banking account through the bank's website, clicking on the "credit card" tab and selecting "credit card payment" option. Banks also provide hot listing facility under net banking to block it from any misuse in case the card has been lost or stolen.

Via Mobile banking app:

For this procedure, users need to download and install their bank's net banking app on their phones. After installation, users can login to the app by using their customer ID. These banking apps have been made for the convenience of mobile users; they provide the same features as that of net banking portals, so that they may be accessible from anywhere. Credit card accounts are highly secure through 128-bit SSL protection. Thanks to this feature, users can conduct safe transactions using their accounts from practically anywhere through a mobile app.

Pay online from another bank account

It is not mandatory to have an account in the same bank whose credit card you are using. There are different ways of paying credit card bills through other bank accounts:

NEFT method: In this method, the user needs to enter the number of the credit card as the payee account number as well as the corresponding IFSC code to make credit card bill payments. The payments that are made during working hours on weekdays get transferred on the same day, whereas the payments that are made after working hours get transferred on the next day.

RTGS (Real time gross settlement) method: This method is applicable for the people who use a credit card for higher transaction amount, as they can pay the whole amount at one time. For carrying out this transaction, net banking should be activated in the other bank account too.

Auto payment debit

If a user has multiple cards, an auto debit option is available for payment of credit card bills. To use this facility, certain instructions need to be set on the concerned savings account. This facility is used to pay the minimum amount or to repay the entire outstanding balance.

Offline Methods

ECS Payment:

For this procedure, submitting the ECS form is mandatory.

After filling form, visit the bank and provide details of the amount that needs to be debited.

Get it signed by the bank official.

Cash Payment: Credit card bills can be paid in cash at the nearest bank branch of the concerned bank by paying processing fee.

Cheque Payment: Credit Card bill payment can be done through cheque by dropping it at the nearest ATM or cheque drop box, after writing the credit card number and other details on it.

Transfer through ATM: Credit card bills can be paid through ATM transfer at any of the issuing bank's ATMs. This service can be availed 24/7. Here, the amount that is required to be paid can be transferred from savings or current account to the credit card account.