ICICI Bank is a leading private sector bank in India. It was founded in 1994 and has consistently offered quality service to its customers throughout the past three decades. They provide an array of services and products to their valued customers and have successfully become one of the most popular private banks of India.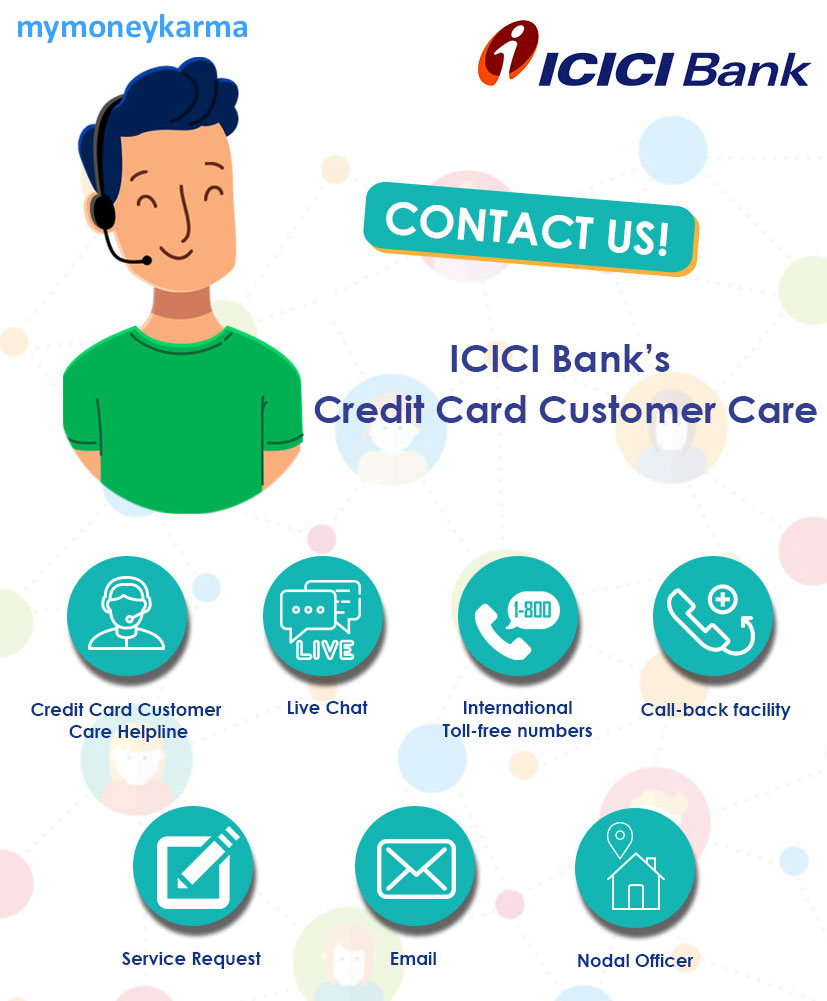 ICICI Bank Customer Care
Just like most other banks, ICICI bank also has a general Customer Care helpline as well as separate helpline numbers dedicated to specific services. They have also set up a quick and responsive live chat system to support their customers.
Credit Card Customer Care Helpline: The Credit Card Helpline can be reached at 1800 200 3344. You can also contact 1800 103 8181 between 9am and 6pm on Monday to Friday. The 24-hour toll-free number 1800 103 8181 can help you with wealth management and private banking queries.
Live Chat: The website of ICICI Bank offers you the facility of live chat with their Customer Care Executives. All you have to do is provide some basic information, enter the chat and talk to the highly responsive Customer Support Team regarding your problem.
International Toll-free Numbers: ICICI Bank has 24x7 Customer Care helpline numbers catering to their international and NRI customers. The following list can help you finding the one relevant to you.
| | |
| --- | --- |
| Country | Phone Number |
| USA | 18664242448 |
| UK | 08081314151 |
| Singapore | 8001012553 |
| UAE | 80009114001 |
| Australia | 001180004242448 |
| Bahrain | 80004877 |
| Belgium | 00-800-0424-2448 |
| France | 00-800-0424-2448 |
| Finland | 990-800-0424-2448 |
| Germany | 00-800-0424-2448 |
| Italy | 00-800-0424-2448 |
| Ireland | 00-800-0424-2448 |
| Netherlands | 00-800-0424-2448 |
| Portugal | 00-800-0424-2448 |
| Spain | 00-800-0424-2448 |
| Luxembourg | 00-800-0424-2448 |
| NRIs when in India | 18001025600 |
Other global offices:
| | |
| --- | --- |
| Country | Phone Number |
| Bahrain | + 973 17 576 161 |
| Hong Kong | +852-22342651, +852- 22342655 |
| Sri Lanka | + 94 11 4242448 |
| Russia | + 7 495 981 4988 |
Call-back facility: ICICI Bank provides a free call-back facility to NRI customers. Fill up and submit the online form, and the bank's Customer Care executives will call you back to resolve your problem.
Grievance Redressal
ICICI Bank is extremely attentive towards their customers' needs. They strive to keep their customers happy and maintain an attentive grievance redressal cell. To ensure the convenience of the customers, they have introduced several modes of addressing customer complaints.
FAQ: You can go through the FAQ section of their website to check if your query is listed there. You may also post a question and expect a quick response from the bank's end, guiding you through your difficulty.
Service Request: You must be registered for their net banking service to enjoy this simple and convenient facility. Use your user name and password to login and get a service request number. Navigate to the credit card section, and you will find queries categorized into segments. Choose the category relevant to your query, enter the basic information and contact details as required; submit the request. You will be contacted by a Customer Care executive within 3 working days, and your request will be processed.
Email: The website of ICICI Bank has a complaint form in the form of an email. Go to the page and choose the concerned product, the type of your query or the type of your complaint. Once you have done this, you will be automatically redirected to a fresh page where you must fill up your personal and contact details. Expect to hear from the Customer Care Team in 3 days, and your request will be processed within a week.
Senior ManagementIf the redressal through email or phone helpline doesn't serve its purpose, download the complaint form and send it to the senior management at the following address:
ICICI Bank Ltd,
Phone Banking Center,
ICICI Bank Tower,
Financial District,
Gachibowli,
Hyderabad - 500032
Principal Nodal Officer: If you are not unhappy with the way your issue is handled, the final step that you can take is by taking it forward to the Principal Nodal Officer. For this, you must generate an application number from the website and then send this number along with the downloaded grievance redressal form to the address mentioned below. You will receive a response within 4 working days.
Principal Nodal Officer,
ICICI Bank Ltd,
ICICI Bank Tower,
Bandra Kurla Complex,
Bandra East,
Mumbai - 400051