Headquartered in Manipal, Karnataka, Syndicate Bank was established in 1925. It is one of the oldest commercial banks in India that has a strong presence in the semi-urban areas. It had sponsored the first regional rural bank, known as Pratham Bank, in 1975. Syndicate Bank has more than 3000 branches within the India.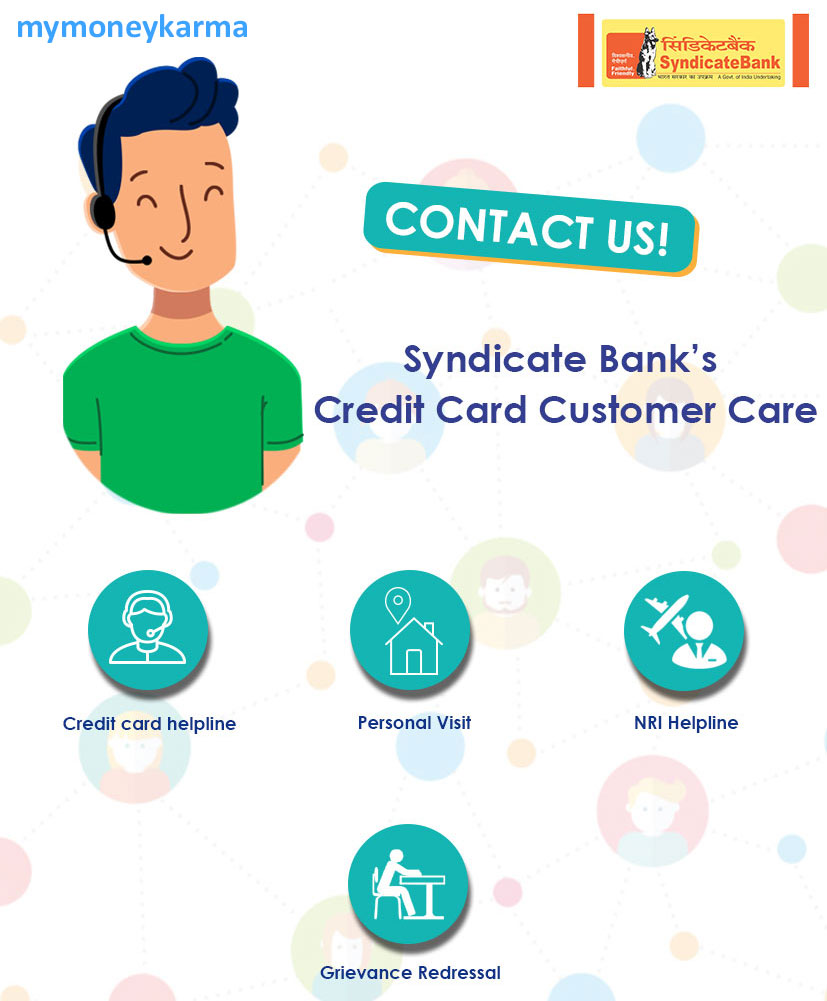 Syndicate Bank Customer Care
Credit card helpline: Call 1800 225 092 for queries related to Credit Cards. This number is available round the clock and is toll-free from BSNL and MTNL landlines. You can also contact 022- 4042 6003, but calls will be chargeable. You can also mail your credit card queries to [email protected]
NRI Helpdesk: An NRI account holder can contact the specialized Customer Care for NRIs by writing to [email protected] or approach the International division of the Syndicate Bank located at
International Division of Syndicate Bank
Maker Towers,
2nd Floor,
Cuffe Parade, Colaba
Mumbai - 400005 (India)
Personal Visit: You can also visit the Regional Head Office of Syndicate Bank in your city for prompt action on your problem. Here is a list of addresses:
| | |
| --- | --- |
| Bangalore South | 1st Fl, AnandBhavan, Nettakalappa Circle, Market Road, Basavangudi, Bangalore 560004 |
| Chennai | LeelavathiBldg, 69, Armenian Street, Chennai 600001 |
| Delhi | Sarojini House,5, Bhagwandas Road, New Delhi 100001 |
| Mumbai | Maker Tower No E, IIndFl, Cuffe Parade, Mumbai 400006 |
| Hyderabad | No. 6-3-915, 2nd Floor, west Block, Admin Bldg, Hyderabad Metro water Supply and Sewerage Board, Khairatabad 500004 |
| Pune | BharatiVidyapeetBhavan, L B ShastriMarg, Pune 411030 |
| Mangalore | 2nd Floor, Syndicate Bank Building, Light House Hill Road, Hampankatta, Mangalore 575001 |
Grievance Redressal
Customer Day- The 15th of every month is observed as "Customer Day" at Syndicate Bank. If 15th is a holiday, then it is rescheduled to the next available working day. On this day, you can visit the bank, voice out your grievances about all banking services and products, including Credit Cards, and also suggest improvements in customer service. You can meet any senior executive of the bank on this day - the Chairman or Managing Director - without a prior appointment.
Initial stages of a grievance must be registered by calling the bank's Customer Care Support team. You can call up the toll-free helpline or write to [email protected]
The Branch Manager should be your first point of direct contact whenever you have a complaint.
If you are unhappy with the solution offered, you can approach the Regional Manager or the Nodal Officer for complaints at the Regional Office.
Further escalation would be by contacting the Nodal Officer at the Corporate Office of the bank located in Bangalore. Here is the address:
General Manager
Syndicate Bank, Corporate Office
Planning & Development Department
Syndicate Bank Building
2nd Cross, Gandhinagar
Bangalore - 560009
You may write to the Chairman & Managing Director of the Bank or connect with the Internal Ombudsman if your problem is still not resolved.