Standard Chartered Bank has customized credit cards to cater to various needs of people, such as shopping, travel booking, hotel booking, and corporate cards as well. There are different rewards and benefits associated with Standard Chartered Bank credit cards. Standard Chartered Bank also provides multiple options in both modes of payment to its customers.
Online Method

Offline Method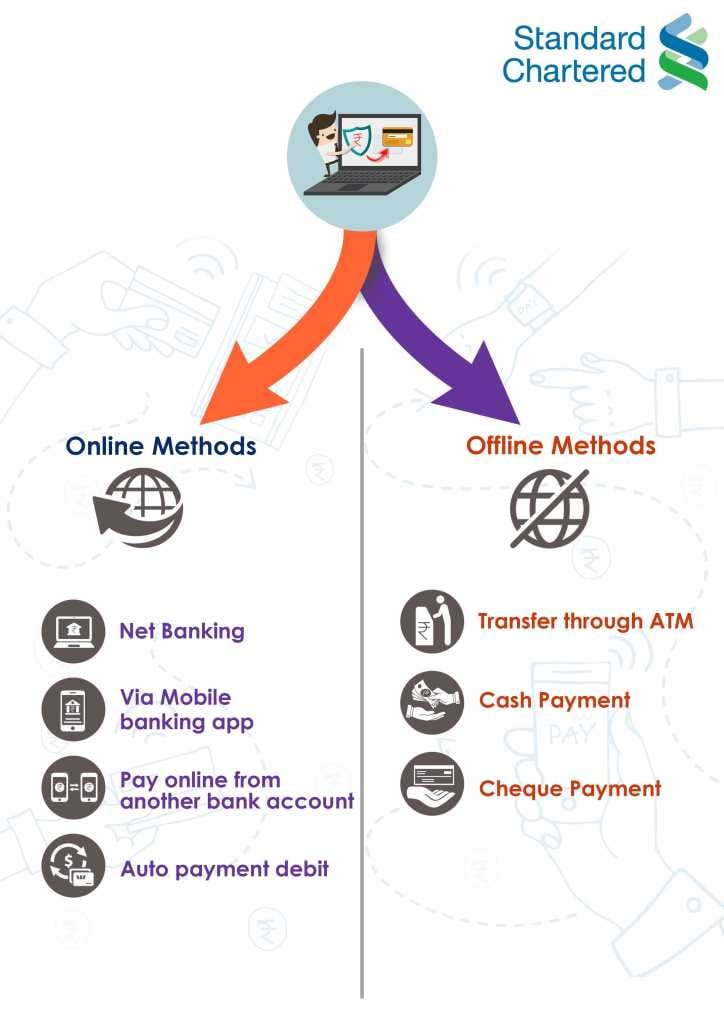 Online Method
Offline Method
Cash Payment: Credit card bills can be paid in cash at the nearest bank branch of Standard Chartered Bank by paying processing fee.

Cheque Payment: Credit Card bill payment can be done through cheque by dropping it at the nearest ATM or cheque drop box, after writing the credit card number and other details on it.

Transfer through ATM: Standard Chartered Bank credit card bill can be paid through ATM transfer at any of the bank's ATMs. This service can be availed 24/7. Here, the amount that is required to be paid can be transferred from savings or current account to the credit card account.
FAQs
If a wrong credit card number has been entered, what should a customer do?
The credit card number should be entered twice for security purpose. If it is still entered incorrectly, then the customer should call the customer care.
How can credit card bill payment be made through mobile?
For paying credit card bill through your mobile, you have to download the bank's app, go to the credit card section and initiate the bill payment.
Is there any limit set by Standard Chartered Bank for online payment of credit card?
Yes, the amount being paid should be equal to the total amount due as per the statement.
What's the maximum amount that can be paid using Visa Credit card payment and are there any charges?
The maximum amount to be paid through this facility is Rs.49,999/- per transaction and a maximum of Rs. 1 lakh can be transferred in a day.