Canara Bank has customized credit cards to cater to various needs of people, such as shopping, travel booking, hotel booking, and corporate cards as well. There are different rewards and benefits associated with Canara Bank credit cards. Canara Bank also provides multiple options in both modes of payment - online and offline - to its customers.
Online Method

Offline Method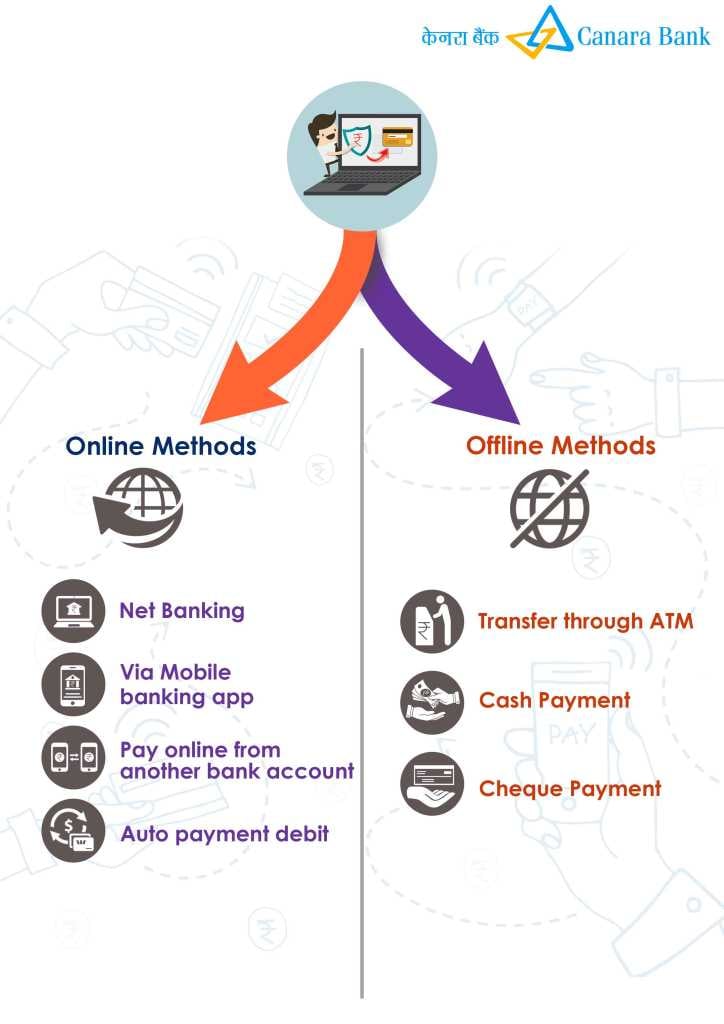 Online Credit Card Bill Payment Modes
You can quickly pay off your outstanding balance by choosing online payment channels. Here are a few of them:
Auto Debit Facility
Due to an auto debit facility, there are fewer chances that you will miss your due date. Set up the standing instructions so that a predetermined amount is credited to your card every month from your savings/current account. Here are the steps to follow:
Select the source account from which the money will be debited.

Choose the beneficiary account or register a beneficiary if you don't have.

Enter the required amount.

Choose the frequency of your payments - daily, weekly, fortnightly, monthly, bi-monthly, quarterly, half yearly, or yearly.

Select the level of priority for your instruction.

Enter the first and the last date of execution in the DD/MM/YYYY format.

Specify the reason for these payments.

Besides checking your current standing instructions, you can also modify or delete them altogether.
Electronic Fund Transfer (NEFT)
NEFT can be used for credit card bill payments as well. For using NEFT, add your card as a beneficiary by specifying the sixteen-digit card number in place of the account number. The IFSC code will be written as CNRB0001912. NEFT operates on hourly batches. You can initiate transactions between 8:00 am - 7:00 pm on weekdays, and between 8:00 am - 1:00 pm on Saturdays.
Offline Credit Card Bill Payment Modes
Canara Bank also offers offline channels for your credit card bill payments. Here are some options for you:
Demand Draft
Use a demand draft to clear your minimum amount or outstanding balances. Fill in the required details and submit it at the nearest Canara Bank branch.
Cash or Cheque
You can also use cash payment mode to pay your credit card bills by visiting the nearest branch. For cheque payments, address the cheque to your credit card account and submit it either at the bank branch or put it in a drop box available at the nearby Canara Bank's ATM.
FAQs
If a wrong credit card number has been entered, what should a customer do?
The credit card number should be entered twice for security purpose. If it is still entered incorrectly, then the customer should call the customer care.
How can offline payments be made?
It can be paid by cash or cheque either at the nearest ATM or nearest bank branch.
How can credit card bill payment be made through mobile?
For paying credit card bill through your mobile, you have to download the bank's app, go to the credit card section and initiate the bill payment.
If I have a credit card query, whom should I contact?
You can contact the Canara Bank in any of the following ways:
Visit the nearest Canara Bank branch.
Call on the helpline number - 1800 425 0018
You can also send an email to [email protected] or write a letter addressing the Deputy Manager of the bank.
What happens if I delay my credit card payment?
Depending on the bank, a particular amount will be levied as the late payment fee. Canara Bank imposes 2% late payment fee for revolving credit accounts that can be between Rs.10 to Rs.150 and 2% late payment fee for non-revolving credit accounts that could lie somewhere in between Rs.20 - Rs.300.