Paying your credit card dues before the due date is the easiest way to improve your credit score and avail low-interest rates. ICICI Bank offers various payment channels to help you pay your outstanding balances or minimum due on or before the due date. There are online as well as offline payment modes. Let us go through both the payment modes in detail.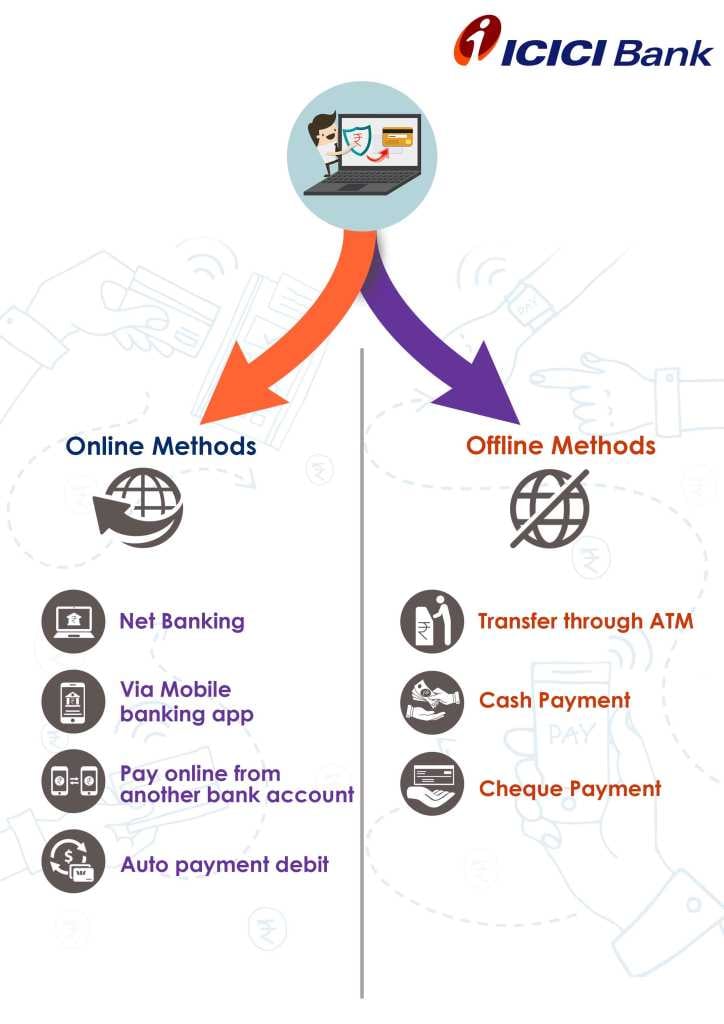 Methods to Pay Your Credit Card Bill Online
Online payment is the most convenient method to pay your outstanding balances on the go. Here is the list of online methods to pay your credit card dues:
Internet Banking
You can quickly pay your dues sitting at home with the help of Internet Banking. Here are two different methods:
Register And Pay
Log in to ICICI Bank's internet banking portal.

Sign in using your user ID and password.

Click on 'Payment & Transfer' and choose 'Manage Biller.'

Add the credit card details and select 'Register Now' to register as a biller.

Your call will be registered.

Now, you can pay your bill.
Quick Pay Without Registration
Visit ICICI Bank's internet banking portal using your user ID and password.

Choose 'Quick Pay' in the 'Payment & Transfer' section.

Add the details of your credit card and make the payment.
NEFT
You can simply pay your dues using NEFT. For NEFT payments, you must use 'Transaction Code 52' and IFSC code 'ICIC0000103' in order to register ICICI Bank as your destination bank. The amount will reflect in your account within a business day.
IMPS
You can pay your ICICI credit card bills using your bank's website or mobile app from the IMPS option. For starters, you must download your bank's mobile application. Once the app is installed, generate the PIN and launch it. Here is the list of banks that offer IMPS services:
In order to process the IMPS transaction, you must follow the given steps:
Log in to mobile banking.

Choose the bank account.

A link for the IMPS transaction will be generated.

After receiving the link, choose 'IMPS' and then select 'Merchant Payment.'

Add the bank account number in the 'Source Account' field from which the money must be debited.

Add the merchant mobile number of ICICI bank, which is 7506612221.

Add the MMID, which is 9229001 for ICICI Bank cards.

Add the amount you want to transfer.

Under the 'Payment Reference Number' field, add your ICICI Bank card number.

Click on 'Go'.

It is now redirected to the confirmation page.

Confirm the transaction after checking the complete information.

You will get the details via SMS after the transaction is done, and the amount will be credited within 24 hours.
VISA Money Transfer (VMT)
The VISA Money Transfer option helps you pay your ICICI Bank VISA card bills easily. The payment will be reflected in your card account within three business days. Hence, it is advisable to process the payments three days before your due date to avoid late payment fees.
Click to Pay
Use the net banking facility of other banks to clear the credit card dues using Click to Pay. Your payment will be reflected in your account within three business days. Follow the steps mentioned below to use Click to Pay:
Visit the 'Click to Pay' page on ICICI Bank's website.

Select your bank from the drop-down.

Choose the type of card.

Add your credit card number and the transaction amount.

You will be redirected to the bank's payment interface that you have chosen.

Enter user ID and password to authenticate the transaction.

Confirm the amount.

The amount gets deducted from your account instantly.

Also, you will receive a reference number for your transaction. Note that ICICI Bank partners with a few selected banks only.
Scan to Pay
This method is quite simple. You need to scan the QR code and complete the transaction. Follow the steps mentioned below to complete the transaction using the Scan to Pay method:
Add the card number of ICICI bank twice.

Select the 'Verify' tab.

Check whether all the details are populated or not.

Add the amount you need to transfer.

Choose the 'Generate QR Code' button.

Log in through any UPI-enabled mobile banking application.

Scan the generated QR code.

Make the payment through your UPI app.

A confirmation will be received with the transaction number on your screen.
Methods to Pay Your Credit Card Bill Offline
If you are not comfortable in paying bills online, ICICI Bank offers several offline methods to clear your dues. Listed below are the different approaches to pay your bills offline.
Cash

ATM

Auto Debit

Call to Pay

Cheque/draft
Cash
You can directly visit the nearest ICICI Bank branch and make a payment towards your credit card with cash. Ensure that you make the payment at least one day before your due date. Also, while paying your dues, you will be imposed on a service charge of Rs. 100 for each transaction.
ATM
Go to your closest ICICI bank ATM and pay your credit card dues using your ICICI bank debit card. The transaction amount gets transferred to your credit card account immediately.
Auto Debit
ICICI bank offers the auto debit facility for all its customers. You can either pay the total amount or the minimum amount due. You must register for this service through internet banking or by contacting the customer care on 1860 120 7777.
Also, you can download the mandate form from the bank's website, fill in the required details, and send it to the address given in the form via mail.
Call to Pay
The payment can be made by calling on the Call to Pay facility through your phone. Dial 1860 120 7777 and follow the IVR instructions. You can make the payment using your ICICI Bank debit card, which will be reflected in your card account instantly.
Cheque/draft
Drop your cheque/draft at the nearest ICICI Bank branch or ATM drop box.
Address the cheque by writing down your ICICI credit card number and your name plus your mobile number behind the cheque.
FAQs
If a wrong credit card number has been entered, what should a customer do?
The credit card number should be entered twice for security purpose. If it is still entered incorrectly, then the customer should call the customer care.
How can offline payments be made?
It can be paid by cash or cheque either at the nearest ATM or nearest bank branch.
How can credit card bill payment be made through mobile?
For paying credit card bill through your mobile, you have to download the bank's app, go to the credit card section and initiate the bill payment.
Is there any limit set by ICICI for online payment of credit card bill?
Yes, the amount being paid should be equal to the total amount due as per the statement.
Will I be charged for IMPS transactions?
Yes, you will be charged.
Rs. 5 + GST is charged if the transaction amount is between Rs. 1-1 Lakh

Rs. 15 + GST is charged if the transaction amount is between Rs. 1 Lakh -2 Lakh
How much can I transfer using Scan to Pay?
Currently, BHIM application allows payments of up to Rs.10,000 for a single transaction and a maximum of Rs.20,000 each day.
Do I need an ICICI Bank account to use Click to Pay?
No. Payments can be made through any bank account.
How long does it take to reflect the payments done through cheque?
If you have made a payment using your ICICI Bank cheque, it will take three working days to get reflected in your card account, and if you have made payment using non-ICICI bank cheque, it takes five working days to get reflected.
An outstation cheque dropped at an ICICI Bank branch will reflect in 12 working days. And for outstation cheques dropped at non-ICICI Bank branches, the payment will reflect in 21 days.
Where can I use the NEFT service?
You can access the NEFT service via internet banking, m.dot, Pockets, iMobile, and icicibankpay.