Established in 1993 as UTI Bank that was later renamed, Axis Bank is the third largest private sector bank in India. They have over 3000 branches and nine International Offices that can be located on their website. They not only provide basic banking facilities but also offer services pertaining to agriculture and retail business, MSME, corporate banking, etc.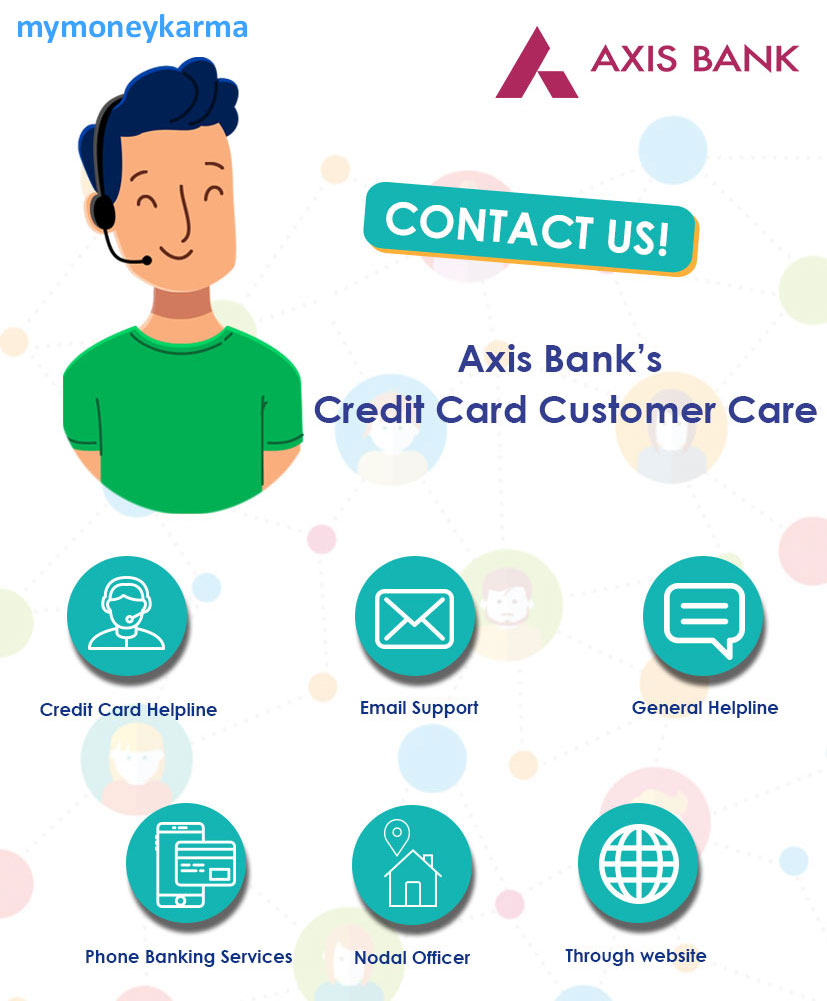 Axis Bank's Credit Card Customer Care
Like all banks, Axis Bank also has a general Customer Care helpline. Additionally, they have dedicated helplines for credit card, NRI customers, and for few other services.
Credit Card Helpline
Axis Bank's Credit Card toll-free number is 1860 209 5577. They have a Credit Card helpline number (91- 22- 67987700) specifically for NRI customers. There is an emergency helpline for dire and serious cases - you can call +91 22 67987700 in circumstances like loss or theft of credit card. These helplines will assist you in sorting out issues related to annual fees, purchase statements, complaints, suspected fraud, loss of card, etc.
There are country-specific helpline numbers that NRI customers might find very useful.
| | |
| --- | --- |
| Country | Phone Number |
| USA | 1855 205 5577 |
| UK | 0808 178 5040 |
| Singapore | 800 1206 355 |
| Canada | 1855 436 0726 |
| UAE | 8000 3570 3218 |
| Australia | 1800 153 861 |
| Saudi Arabia | 800 850 0000 |
| Bahrain | 800 11 300 |
| Qatar | 00 800 100 348 |
Email Support
You might also consider seeking customer care support through email. Here' a list of important email ids:
General Helpline
For queries pertaining to account balance and mini statement, Axis bank has special numbers that assist customers in English as well as in Hindi.
Account Balance
1800-419-5959 (English)
1800 419 5858 (Hindi)
Mini Statement
1800-419-6969 (English)
1800 419 6868 (Hindi)
Phone Banking Services
You can register your phone number against your bank account or credit card to avail the Phone Banking facility, which caters to your banking needs with a simple click.
Grievance Redressal
Axis Bank is extremely compassionate towards customer queries. They have an online grievance redressal facility pertaining to various different services and products offered by the Bank. Here's a comprehensive guide on registering your complaint.
Through website
Visit the Axis Bank website and go to the 'Get Support' page. You will find a list of products and must select the relevant option. Let's assume that you have selected the 'Credit Card' option. The webpage will ask you to choose your area of problem from fields like welcome kit, payment status, credit card pin, credit limit, EMI, fees, charges, personal details update, application status, statement, hot listing of the credit card, NRI credit card, priority pass, promotional offers etc. You need to click on the relevant issue, then mention the nature of your complaint in detail and submit your complaint. An expert in your area of complaint will get in touch with you. Alternatively, you can call the 24 x 7 Credit Card Customer Care Helpline in case of urgencies.
Nodal Officer
In case you are dissatisfied by the response of the Customer Support Team, you can escalate it by contacting the Nodal Officer. Download the grievance redressal form from the website and either mail it to [email protected] or send it to the following address:
Axis Bank Ltd,
Nodal Officer, Grievance Redressal,
NPC1, 5th Floor,
Plot No I.T.5, MIDC,
Airoli Knowledge Park,
Navi Mumbai - 400708
Principal Nodal Officer
If your issue is still not redressed, the final step that you can take is by taking it forward to the Principal Nodal Officer. For this, you must generate a service request number from the website and then send this number along with the downloaded grievance redressal form to the following address:
Executive Vice President,
Retail Banking Operations Axis Bank,
Corporate Office,
Bombay Dyeing Mills Compound,
Pandurang Budhkar Marg,
Worli, Mumbai 400 025.