IDBI Bank offers customized credit cards to cater to various needs of people, such as shopping, travel booking, hotel booking, and corporate cards as well. IDBI is one of the prominent banks in the country that provides financial products tailored to the requirements of the customers. There are different rewards and benefits associated with IDBI Bank credit cards. IDBI Bank also provides multiple options in both modes of payment - online and offline - to its customers.
Online Method

Offline Method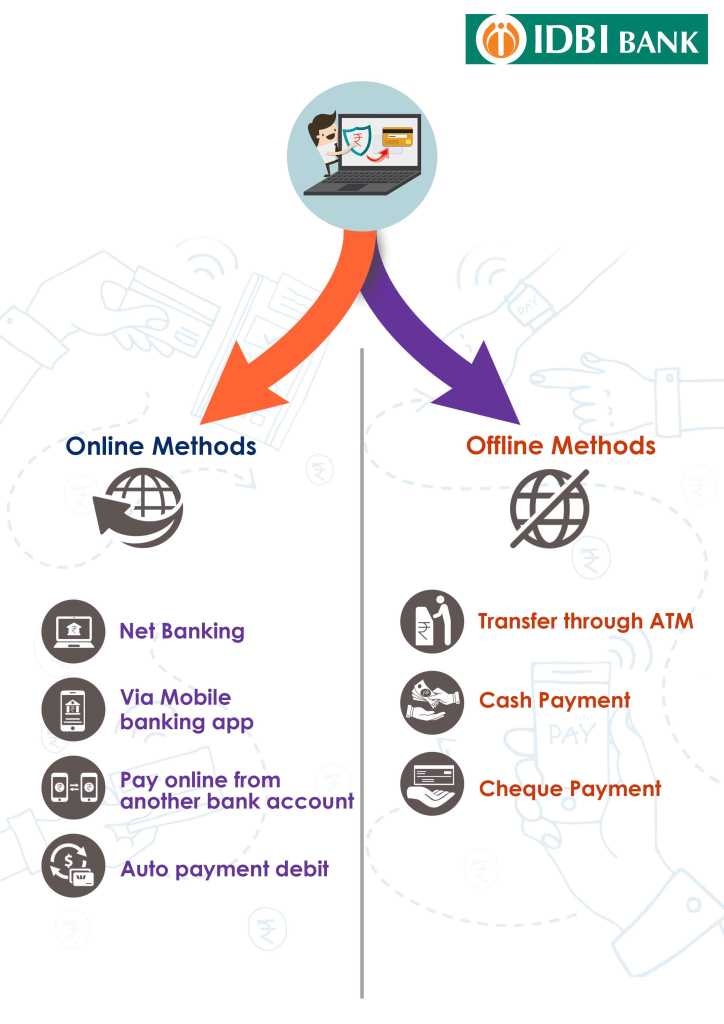 Avenues to Pay IDBI Credit Card Bill Online
IDBI Net banking
The feature of net banking can be availed by both the type of customers - the ones who hold an account and the ones who don't hold an account with IDBI. For paying credit card bills through net banking, you will have to register your credit card before proceeding towards payments.
Paytm
You can also make a credit card bill payment through Paytm. Here are the steps that you should follow:
Sign in to your Paytm app and under the 'recharge and bill payments' tab, click on the concerned credit card.

Enter your credit card details and the bill amount.

Select Paytm Wallet as the mode of payment or any other savings account that is linked to your Paytm account.
UPI
To use UPI for IDBI credit card bill payment, register yourself on the BHIM app that you can download from google play store. These are the steps to register on UPI:
Install the BHIM app on the phone.

Register your IDBI or other account on the app that is linked with your mobile number and which you wish to use for credit and debit transactions on the app.

Create a UPI ID and a security pin for availing the e-statements of your credit card.
Auto-Debit
The most common method of credit card payment is auto-debit. You don't need an IDBI account to avail this mode.

In auto-debit, the payment is automatically debited from your savings account. You can choose this option while applying for a credit card.
BillDesk
Billdesk is an online website portal that allows you to make various kinds of payments such as phone bills, electricity bills, gas, credit card bill, etc. These are the steps to pay through Billdesk:
Register yourself on Billdesk.

Choose the billers from whom you want to receive your bills through an email.

Add the account through which you want to make payment.

You will receive a bill every month.

Authorize BillDesk to pay the amount of your credit card bill.

After the payment is made, you will receive an email confirmation.
IDBI Mobile Banking
IDBI also provides the mobile banking facility to customers to settle their credit card bills. The customers who hold a savings account with IDBI can use mobile banking to check credit card information and pay bills. Here are the steps to use mobile banking for credit card bill payment:
Sign in to the IDBI mobile app.

On the navigation bar, a list of options will appear from which you need to select 'credit card.'

Choose 'credit card payment' from the drop-down list.

Now register your card by entering the card number and other required details.

After the card is registered, you are ready to pay your credit card bill amount. Enter the bill amount and authenticate the app to make the payment.

You will receive a confirmation through email.
NEFT
Whether you have an IDBI account or not, you can use this payment mode to pay your credit card bill.
RTGS
Credit card payments can also be made through RTGS mode, which is referred to as Real Time Gross Settlement. However, RTGS payment can only be used if your credit card bill is of more than Rs.2 lakh/day.

For paying your credit card bill through RTGS, log in to your IDBI net banking and add the credit card. After your credit card is registered, enter your bill amount and then pay it by selecting RTGS payment.
Offline Modes of Credit Card Bill Payment
You can pay your credit card bill through demand draft too by submitting it at the bank. Provide your credit card number, the date and the bill amount and deposit it to any nearest bank branch of IDBI Bank.
Cheque Payment
Write a cheque mentioning the credit card account number, bill amount and the date; drop it in a cheque box at the nearest ATM or visit the bank branch to submit it.
Cash
For paying your credit card bill through cash, submit the money at the nearest branch of IDBI. Once you visit the bank branch, fill out a deposit slip with the card number, bill amount, the denomination of the notes you will be paying and the date. After the form is completed, submit it to the bank officer to process the payment.
ATM
ATMs that accept deposit can also be used to pay your credit card bill. Visit the ATM and choose the deposit option. Then enter the credit card number, deposit the cash and click on submit.
FAQs
If a wrong credit card number has been entered, what should a customer do?
The credit card number should be entered twice for security purpose. If it is still entered incorrectly, then the customer should call the customer care.
How can offline payments be made?
It can be paid by cash or cheque either at the nearest ATM or nearest bank branch.
How can credit card bill payment be made through mobile?
For paying credit card bill through your mobile, you have to download the bank's app, go to the credit card section and initiate the bill payment.
Is there any limit set by IDBI for online payment of credit card bill?
Yes, the amount being paid should be equal to the total amount due as per the statement.
What is the late payment fee?
IDBI levies a late payment fee of Rs.100.
Do I have to pay a fee for availing the e-statements of my credit card?
No, you don't have to pay any fees.