Credit Card Bill Payment Options for banks across India
Indian Overseas Bank Credit Card Bill Payment
IOB issues Credit Cards to the users for enabling them to borrow funds from bank to pay for daily expenditures like utility bills, mobile bills or buying other goods and services on the stipulation that user will pay back the amount to the bank with an additional interest.
Indian Overseas Bank has customised credit cards to cater various needs of people whether it is for shopping, travel, hotel or corporate cards. There are different rewards and benefits associated with IOB, in which some cards have great cashback schemes as per transactions while some cards offer good amount of reward points which can be redeemed later for getting good offers from bank. IOB provides multiple options in both modes of payment, online and offline to its customers.
Online Method

Offline Method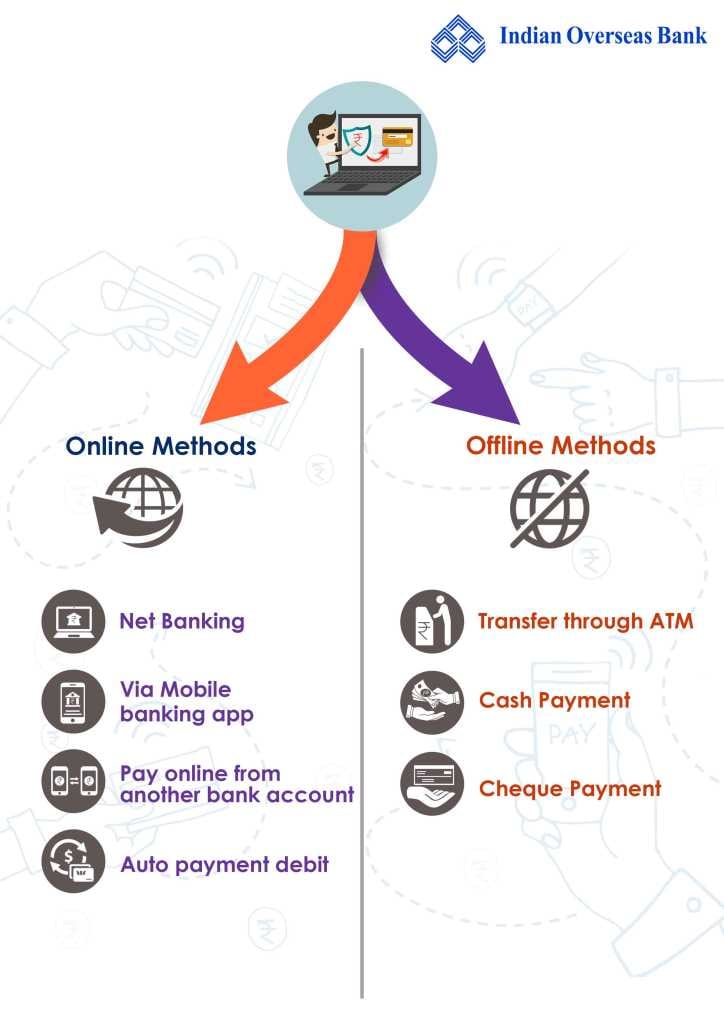 Online Method
Offline Method
Cash Payment:

Credit card bills can be also be paid at the nearest bank branch of IOB by paying processing fee.

Cheque Payment:

Credit Card bill payment can also be done through cheque by dropping it at the nearest ATM, after writing the credit card number and other details on it.

Transfer through ATM:

IOB credit card bill can also be paid at any of the nearest branch ATMs .This service can be availed 24/7.Here the amount that is required to be paid can be transferred from saving or currents account to credit card.
Indian Overseas Bank credit card bill payment FAQ
If a wrong credit card number has been entered, what a customer should do in such case ?
Though the credit card number should be entered twice for security purpose but even then if it happens, please call the customer care.
How the offline payments can be made ?
It can be paid by cash or cheque either at nearest ATM or nearest bank branch.
How can credit card payment can be made through mobile?
For this process, please download the app and payment can be made in credit card section.