Aadhaar update may be required in some cases when the address has been changed, or if a correction is required in current details, or if you haven't used aadhaar for any transaction since the last three years and has become inactive, Hence, UIDAI has come up with a solution of updating the Aadhaar card details online.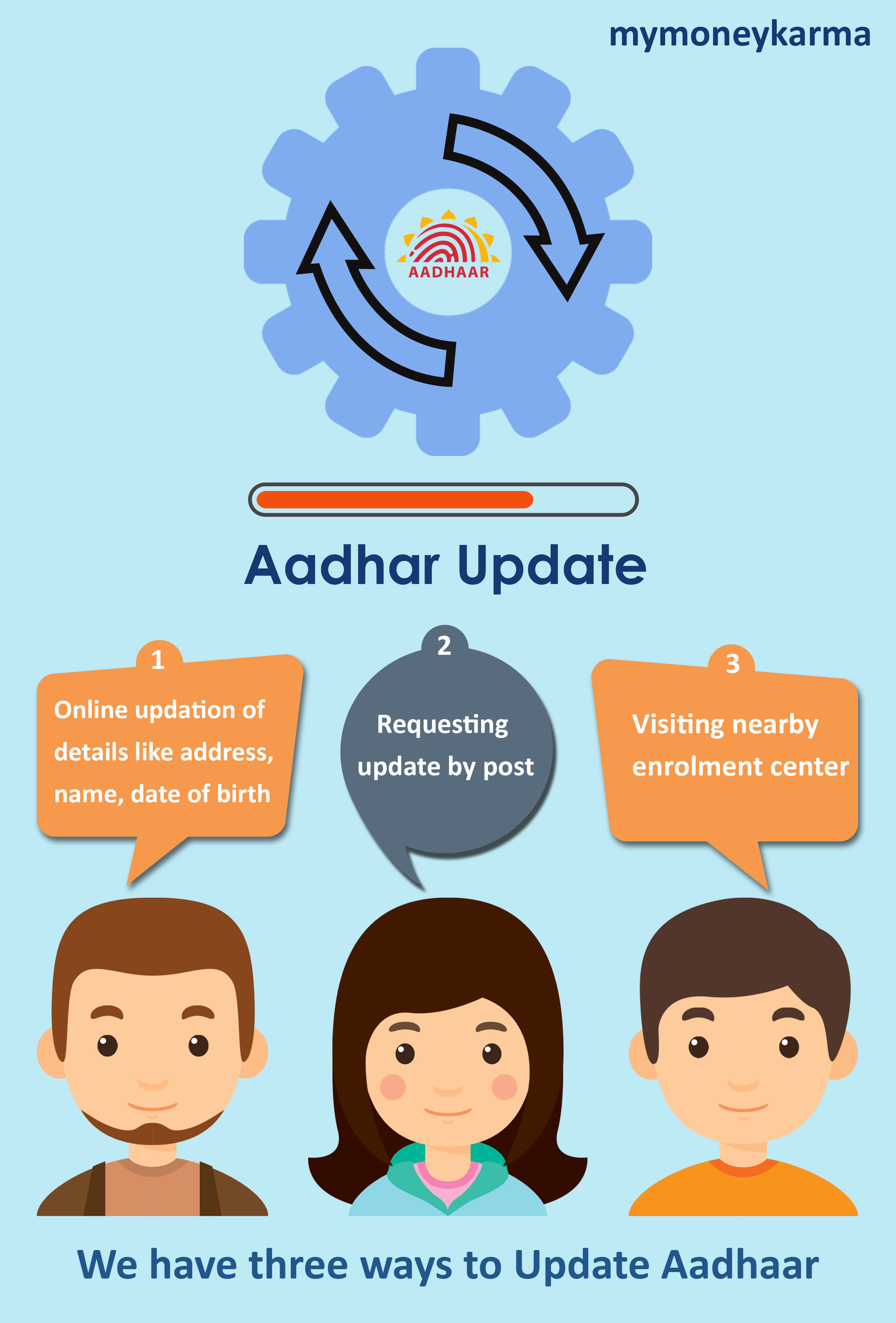 There are three ways to do it:
Online updation of details

Requesting for update by post

Visiting a nearby enrolment center
Online updation of details like address, name, date of birth:

Go to the official page of UIDAI https://ssup.uidai.gov.in/web/guest/ssup-home#/

On aadhaar self-service update portal page, there will be a link that will ask you to proceed for address update or any other correction.

After proceeding further, a new page will open, which will ask for Aadhaar card number and text verification code. Enter the details and click on the "send OTP" button.

After entering the OTP details, proceed to the next page and select 'address.'

Click on the submit button that will take you to another page, asking for uploading documents with name and address proof.

Upload the soft copy of the scanned documents as proof of identity (name and photo) and address (containing name and address) to support the update request for submission. Select the BPO before the final submission.

Once the request is submitted, the aadhaar card update request number will be sent to your registered mobile number, which would be used for tracking the Aadhaar card status.

In case the documents do not match with the details, your request will be rejected and you will have to create a new one.

If the request has been approved by UIDAI, the updated aadhaar card will be sent to registered address by postal mail.

Requesting update by post:

Here are the addresses:

At Madhya Pradesh: UIDAI

Post Box no. 10

Chhindwara, Madhya Pradesh-480001

India

At Hyderabad:

UIDAI

Post Box no.99

Banjara hills, Hyderabad

500034

For updating the address via post, download the necessary form from the UIDAI website.

Check-mark the fields that require updates; then use capital letters to fill all the details. Make sure that you write them in English as well as the local language that had been used during the enrolment of Aadhaar. Remember that providing the mobile number is mandatory in either case - whether updation or correction.

Attach all the supporting documents required for updating the address and send them to UIDAI at one of the addresses mentioned below. Mention "Aadhaar update/correction" on the top of the envelope.

Visiting nearby enrolment center:

Visiting the enrolment center has another provision of updating demographics like name, address, mobile number, date of birth, etc. as well as biometric information (iris, fingerprints). Original documents need to be carried along while visiting the center, which would be given back after scanning. After filling out the aadhaar correction form, attach the documents and submit them to the executive. UIDAI has now come up with three modes of assistance for this purpose, in which, document verification will be done at the same time when the request get placed.

Client Lite: In this mode, the demographic data, photo and language can be updated

Client standard: Here, biometric authentication gets done at the back-end itself, but the demographic data, photo and local language can be updated

Through AUA (Authentication User Agencies) presence: This mode is required to correct or update demographic data

In any of the above processes, either online or offline, the turnaround time for updation is 90 days. Once updation request gets approved after verification from UIDAI representatives, e-Aadhaar download can be done from UIDAI website, or else updated aadhaar will be sent to the registered address. Notifications will be sent to the registered email id and phone number.
FAQs on Aadhaar Update
What all documents are required for updation and correction in Aadhaar card details?
Documents accepted as proof of address (must contain name and address):
Passport
Statement of bank in which applicant holds the account
Account statement or passbook of post office
Ration card
Voter Id
Driving license
Photo identifications cards issued by government
PSU issued service photo id card
Electricity bill not older than three months
Water bill not older than three months
Telephone bill of last three months
Property tax receipt of last three months
Credit card statement of last three months
Insurance Policy
Job card of NREGS
Arms license
Pensioner card
Freedom fighter card
Kisan passbook
CGHS Card
ECHS Card
Signed letter and the photo on the letter head of the company issued by registered office
Photo and signed letter issued by well-known educational enterprise on letter head
Disability ID card
Assessment order of Income tax
Registered agreement of sale, rent of applicant's residential address
Gas connection bill of last three months
Spouse's passport
Parent's passport in case of minors
Documents accepted as proof of identity:
Passport
Pan Card
Ration card or PDS photo card
Driving license
Credit card having photo
Marriage certificate
Name changed certificate
Photo card of Kisan
Photo card of freedom fighter
Documents required for date of birth proof :
Birth Certificate
Pan card
Educational certificate
Passport
Marksheet issued by government board or University
Central/state pension payment order
Government photo id card
In what conditions does Aadhaar need to be updated?
There are certain conditions where aadhaar update is required:
Change in name, mobile number, date of birth and address
If correction is required in the details submitted during enrolment process
For updating local language
For a child who has grown up - the biometric details have to be updated after five years
In case of accidents or illness that could have an on biometric proof
If biometric record is of poor quality
Will there be any fees for aadhaar update?
If you are applying online, then there will be no charges, but while visiting the enrolment center, a nominal charge of Rs.25 is required to be paid.
What are the details that can be updated online?
Address and phone number can be updated online. For other updates, please visit the enrolment center.