Planning to apply for an Aadhaar Card? Don't worry! The Aadhaar enrolment process has been simplified, and you needn't go through a lot of hassles to obtain your Aadhaar card. Just find out the location of an Aadhaar center nearby. Keep a proof of identity and address handy. You will get a form once you visit the Aadhaar center. All you have to do is fill it up and submit it along with the documents for verification purposes. They will also ask you to submit your biometric data and issue an acknowledgement slip once the process has been completed. Your Aadhaar card will arrive by post within 3 months.
Here's an interesting graphic that can help you memorize the steps involved.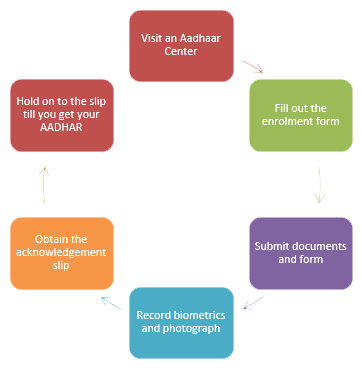 The Aadhaar Application Process
All Indian citizens, including minors and senior citizens, have to follow the same procedure of application for Aadhaar cards. Keep all the required documents ready before you visit the enrolment center. Follow our step-by-step guide to get your Aadhaar card without much hassles.
Look for the nearest Aadhaar enrolment center.

Carry the following documents with you: an identity proof and an address proof.

Obtain an enrolment form. Alternatively, you can download the form and take a print-out.

Fill out the details accurately.

Submit the form along with the documents for verification.

The Aadhaar center will obtain your biometric records - retina scan and finger print.

Your photograph will be clicked at the Aadhaar center.

Collect an acknowledgement slip. This slip will contain a 14 digit unique enrolment number which you can use to check the status of your application.

Keep the slip safe till you receive your Aadhaar card.
Please note that the Registrar General of India is responsible for the Aadhaar enrolment procedure in States like Assam, Meghalaya, Arunachal Pradesh, West Bengal, Odisha, Tamil Nadu, Jammu & Kashmir, Mizoram, and the UTs of Lakshadweep, and Dadra & Nagar Haveli. However, the enrolment process is the same as in the rest of the country.