Your Aadhaar card will be sent to your registered residential address via India Post within 3 months (90 days) of submitting the application, provided that your documents are successfully verified and your biometric records are registered. However, in case of an urgent need after the Aadhaar card status has been generated online, you can opt for e-Aadhaar card download by following this simple process in the official website of UIDAI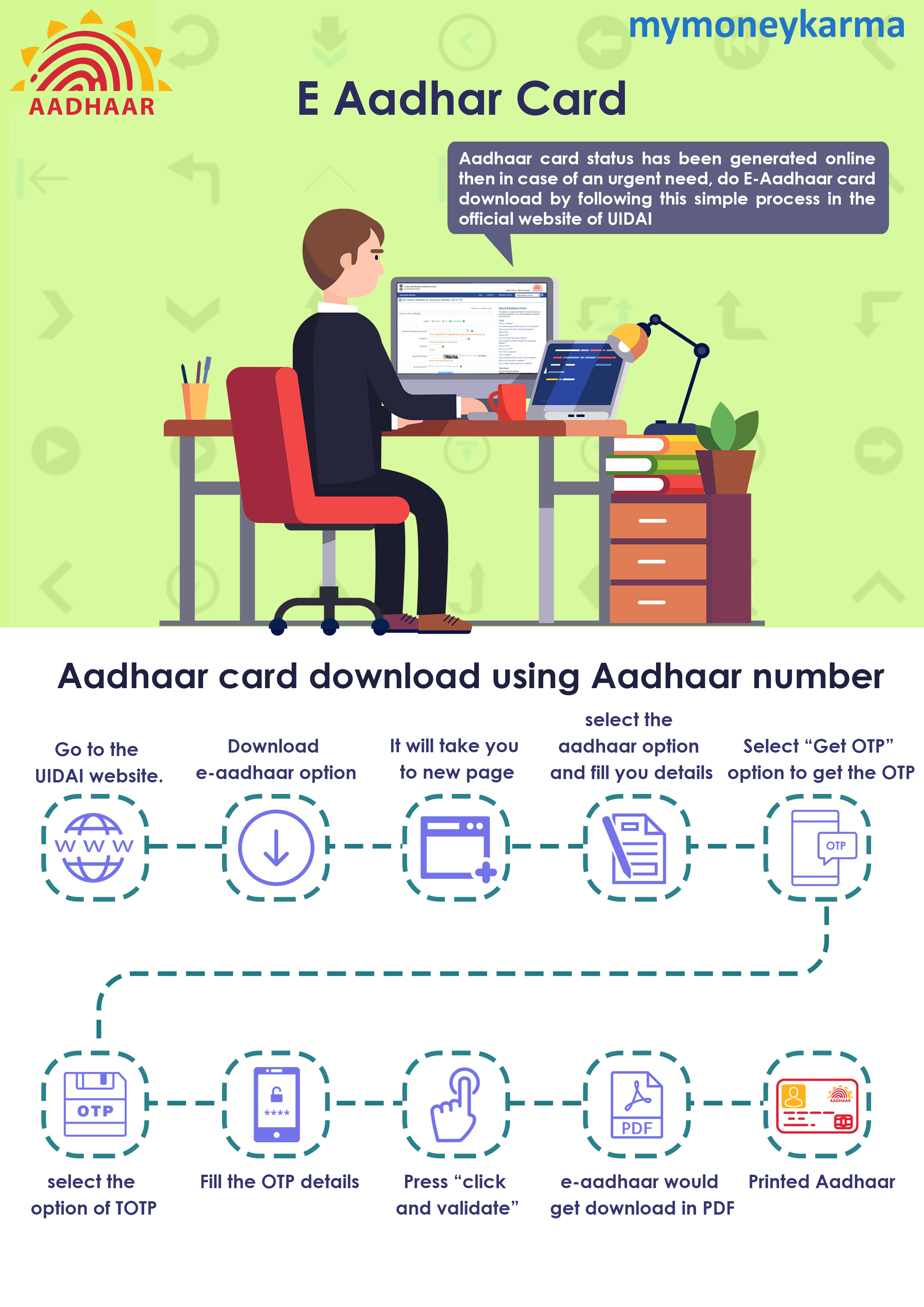 Aadhaar Card Download Using Aadhaar Number
Go to the UIDAI website.

Select the "download e-Aadhaar" option

It will take you to a new page : https://eaadhaar.uidai.gov.in/

In case you already know the aadhaar number, select the aadhaar option and fill your details such as Aadhaar number, full name, pincode of address and captcha image.

Select a Get one-time password option to get the OTP on the mobile number linked with Aadhaar.

If you are using mAadhaar, select the option of TOTP.

Fill the OTP details that have been sent to your mobile number.

Press a click and validate? button for e-Aadhaar download on computer or phone.

Adobe reader is required to open the pdf file as the e-Aadhaar will be downloaded in the same format.

After the Aadhaar card is successfully downloaded, open the file using your password and either get it printed or save it on your mobile for future use.
e-Aadhaar copy is accepted everywhere as a valid ID proof.
Aadhaar Card Download Using Enrolment Number
Aadhaar card can also be downloaded by entering the enrolment number in the required field after following the same steps as mentioned above instead of the Aadhaar number.
Aadhaar Card Download Using Name and Date of Birth
Here is a good news for those people who do not have aadhaar number and have forgotten their enrolment number: you can still download your e-Aadhaar card by putting your name and date of birth. By entering these details, you will be able to retrieve your aadhaar details from UIDAI's website. Here are the steps of doing it:
Go to the website link https://resident.uidai.gov.in/find-uid-eid and fill the necessary details to retrieve your lost EID or aadhaar number.

Then enter your full name along with the registered mobile number or the registered e-mail id, as well as the security code.

Select "send onetime password" and enter the OTP details that have been sent to registered mobile number. Complete the process by clicking on a Verify OTP? button.

After getting aadhaar enrolment number on your mobile number, visit the official UIDAI website and click on "I have enrolment ID."

Enter the aadhaar enrolment number, full name, pincode and complete captcha verification.

Click on a One time password button. Enter the OTP details that have been sent to your mobile and click on Validate and download option to complete the process.
e-Aadhaar Card Password:
To open the pdf file of e-Aadhaar, the password needs to be entered. This password contains 8 characters. The first four letters will be of your name and the last four will be your birth year.
FAQs on e-Aadhaar Card
e-Aadhaar is just an equivalent to the original Aadhaar card, and it is accepted everywhere. In case any one refuses, the Aadhaar holder may lodge a complaint with the higher authorities of the organization.
Is there any app to download e-Aadhaar?
e-Aadhaar can be downloaded from mAadhaar app.
Can Aadhaar be downloaded if the mobile number is not registered with UIDAI ?
No, it can't be downloaded in such a scenario.
If my income is below the taxable limit, do I still need to link PAN with aadhaar number ?
Yes, even if your income is below the taxable limit, your PAN has to be linked with aadhaar as per the IT norms.