Regularization is the change of name in the official KYC records and this process is the same for all the gas agencies and big oil companies that operate in India. Bharat Petroleum, Indian Oil and HP follow an identical procedure to regularize the gas connection. Any individual who wishes to change their names on the KYC records will be required to fill up Annexure E form for transferring the LPG Gas Connection
What is LPG Regularization?
Earlier LPG was being distributed in the country in a non-centralized manner, after the introduction of regularization, all the companies are required to undergo the same formalities based on the directives released by the government of India. After the implementation of the regularization of the gas agencies, it is imperative for the companies to keep the personal details and all the other records of their customers.
However, sometimes, these customers wish to update their personal information on the KYC Records. To make the process more comfortable for the non registered users of LPG, the oil companies and other gas agencies have devised a procedure that centralizes the entire distribution system of LPG. In this procedure, the consumers can be registered quickly and they need not visit the agency physically to get the details on their forms changed
Having an LPG Connection without the required documents is illegal.
How to fill up the form for transfer or regularization of LPG Gas Connection
The layout of the form for applying for the regularization of LPG Gas Connection is given below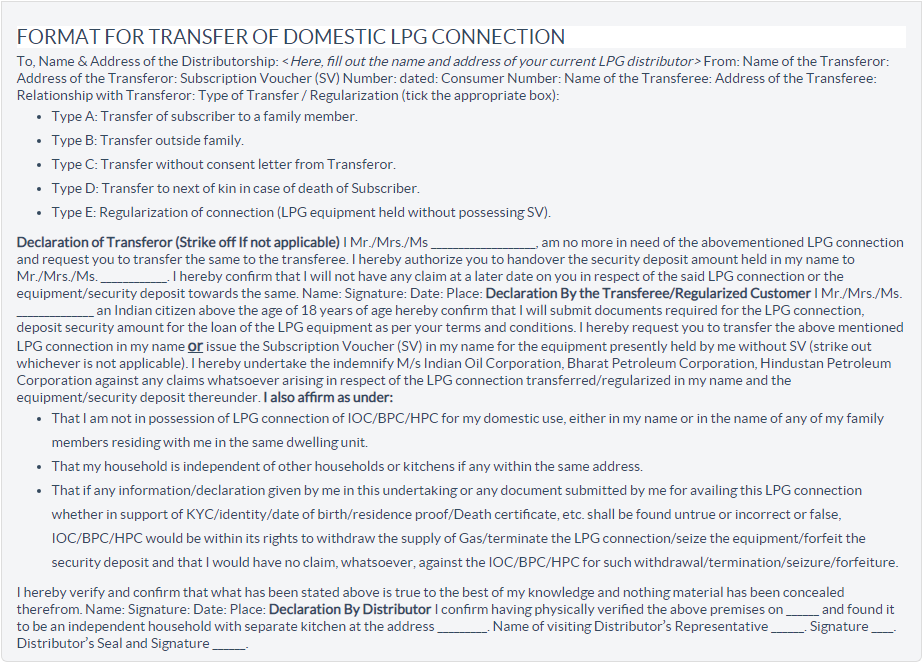 Why is it essential to change the name of the consumer on the official records?
To avoid any form of duplication, it is imperative that the officials successfully change the name of the customer on their records. This can prevent anyone from taking undue advantage of the LPG Subsidy and it ensures that all the customers are registered with their correct names and addresses
If any customer wishes to change any information provided by them, then they can do so by submitting a form along with the required proof of identity. Consumers might change their names for several reasons like marriage, a change in religion, etc. The document stating the change in name along with a proof of identity is required to be submitted by the consumer to the official to complete the procedure of Transfer/Regularization of the LPG connection