Citibank offers a highly convenient mobile version of its website for the customers to check account information, make transactions and also raise several requests from anywhere at any time. They offer an SMS banking service, and also a mobile app which can be used on iPhone as well as Android platforms.
How to Register for Citibank Mobile Banking?
Citi Mobile is a mobile banking solution or app that gives you access to your citibank account online. On the Citi Mobile app, you can view your account related information, transfer funds, pay bills, and carry out a lot of other functions. Currently, Citibank Suvidha/Branch Banking and credit card account holders are eligible to use Citi Mobile.
To activate Citi Bank Mobile banking, please ensure that you have:
A mobile device with an active GPS connection.

An active IPIN/Internet password.

A registered mobile number.
For downloading Citi Mobile on your device, your mobile number should be registered with the bank.
How to register your mobile number with Citibank?
Login to Citibank Online through your existing IPIN and update the mobile number.

Call CitiPhone and use your TPIN to update your number.

Once your phone number is registered with Citibank, you can request for Citibank Mobile app link.
If you don't have an active IPIN to login to Citi Mobile, click on https://www.citibank.co.in/ssjsps/ssindexmidssi.jsp to create IPIN instantly. In case you want a new IPIN (first-time user), then click on 'Register Now' on Citibank Online to generate a new IPIN for yourself by selecting the account type.
How to Download the Citi Mobile App?
SMS MBANK <last four digits of your debit/credit card> to 52484.

An SMS will be sent to your mobile from the bank with the download link for Citi Mobile app.

Click on the given link.

A WAP page will ask you to enter your mobile number. Enter the details and click on 'Continue.'

Provide your consent for the Citi Mobile 'End User License Agreement' before downloading the app.

The app will be downloaded on your device.
In case you are not able to download the Citibank app, visit m.citibank.co.in via your phone browser and start using Citi Mobile.
Features of Citibank Mobile Banking
Citibank SMS Banking: The SMS Banking feature of Citibank allows you to check your account balance, receive your last salary information, locate the nearest ATMs, request for a chequebook amidst several other functions.
CitiAlert: CitiAlert lets you keep tabs on your savings account transactions, credit card transactions as well as investments, by enabling CitiAlert. If you activate CitiAlert, you will get regular alerts regarding your account through SMS and Emails. You can also activate alerts to confirm whether your transaction has been completed successfully. It helps you detect frauds and reminds you of your pending bill payments.
WeChat: This is CitiBank's dedicated portal to inform their customers about their new products. It can be downloaded easily to be in the loop for Citibank's latest products. WeChat also gets you dining and shopping offers. It also gives access to an attractive reward points system.
Citi Tablet app: This is an application that lets you view your account information in the form of graphs and also helps you in plan your finances better.
Book Deposits: Customers can book deposits using Citibank's mobile banking service. All the deposit schemes offered by Citibank, i.e., Fixed Deposits, Tax Saver Deposits, Recurring Deposits, Multi Deposits can be opened through Mobile Banking.
Manage Account: The Mobile App has a dedicated section to help the customers manage their account. Customers can request to view bank statements, link their accounts, stop payments, edit maturity instructions, etc.
CitiBank Fund Transfer Options
Customers of CitiBank can easily transfer funds through NEFT, RTGS, and IMPS.
NEFT - National Electronic Fund Transfer system or NEFT is a mode of electronic fund transfer that works on the basis of DNS or Deferred Net Settlement at specific times of the day. In NEFT, the transactions are carried out between banks via payment instructions. There is no set limit for NEFT transactions done at the bank. However, there is a limit of Rs.1 lakh per day via Mobile Banking.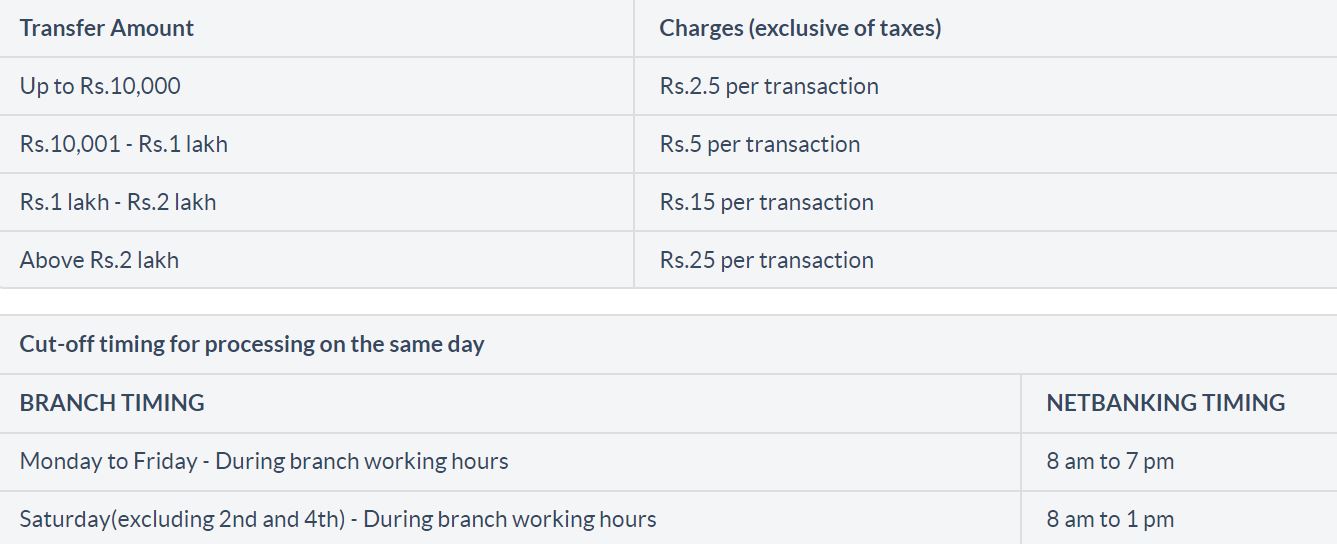 IMPS - Immediate Payment Service, as the name suggests, is an instant way of electronic fund transfer. It is mainly used for inter-bank transactions. CitiBank provides the IMPS facility to all its customers who have registered for using online services. It enables you to send as well as receive money at odd hours and even on Bank Holidays. The transferred money is directly credited to the beneficiary account. You must add a beneficiary to make IMPS transfers. This service is available 24x7.
RTGS - Real Time Gross Settlement or RTGS transfer funds at the real-time, based on the received transfer instructions. The funds are individually settled as per instruction. RTGS happens to be the fastest way of interbank money transfer in our country. Citibank allows a minimum transaction of Rs. 2 Lakh through RTGS.
International wire transfer - Customers of Citibank can wire funds from abroad accounts to their Indian checking account using the International wire transfer facility. Once the international bank initiates the transfer, it takes 2-3 days for the funds to reflect in the account
Benefits of Citibank Mobile Banking
Free, convenient and secure banking facility.
Transaction limit of Rs.10 lakh daily.
Access to your account anywhere at any time.
Great security features reduce the risk of fraud.
Stay updated about all the new products and services launched by the bank.
Pay bills promptly.
Citibank Mobile Banking Security Measures
128-bit technology for data protection.
Virtual keypad login and protection from malicious "Spyware" as well as "Trojan Programs".
Automatic Session Timeouts to log out the customer when inactive for a few minutes.
Autolock if the IPIN is incorrectly entered thrice consecutively.
Alerts to keep the customers informed of all account transactions.
Citibank Mobile Banking: Do's
Install the latest version of antivirus software.
Choose a strong password with alphanumeric and special characters.
Change your password frequently.
Read the communication sent by the bank.
Report all unauthorized transactions immediately to Citibank.
Citibank Mobile Banking: Don'ts
Don't "Autosave" or "Save password".
Never scribble your username and password anywhere.
Double check before adding beneficiaries.
Never share your login details with anyone.
Do not use public networks while conducting banking transactions.