How to link Aadhaar Card to SBI Bank Account?
The Indian government initiative to link Aadhaar card with the citizen's bank account makes it easy to directly transfer money to the account for the implementation of different subsidiary schemes.
If you own an SBI bank account, you can link the Aadhaar with SBI account through SBI's mobile app, SBI ATMs, net banking, customer service points or by visiting any SBI branch.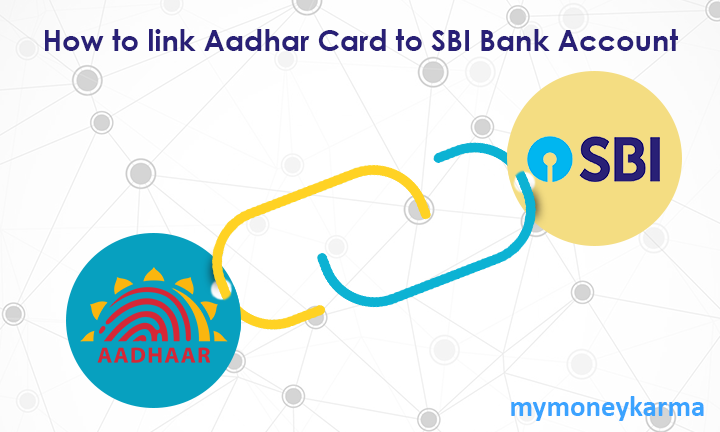 SBI-Aadhaar Link in 6 Simple Steps via Offline Mode
Before starting the process of linking your Aadhaar Card with your SBI bank account, you must be ready with documents like original copy of Aadhaar, its photocopy and the SBI passbook. Follow these simple steps then:
Step 1: Download the SBI Aadhaar Card linking form from SBI's internet site.
Step 2: Fill out the form completely with your account number, your name and address, and Aadhaar/UID number, as mentioned on the Aadhaar card.
Step 3: Hand over the form along with the self-attested copy of your Aadhaar card to your respective SBI branch.
Step 4: To begin the verification procedure, the bank officials will verify your documents - provide the original Aadhaar card for this purpose.
Step 5: As soon as the details match, the bank will approve your application.
Step 6: Once your application is approved, you'll receive a notification from the bank stating that your Aadhaar Card has been effectively connected to your SBI account.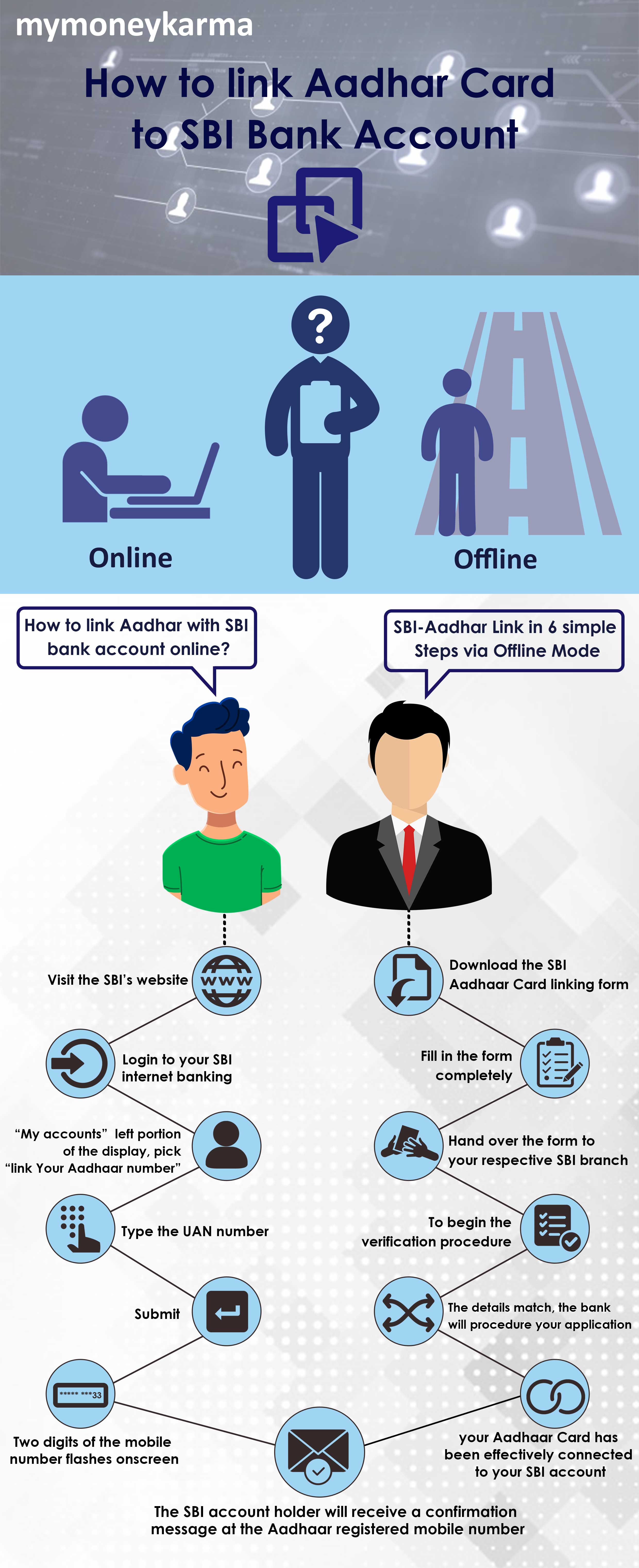 How to link Aadhaar with SBI bank account online?
To link your Aadhaar Card for your SBI bank account, you should have access to internet banking. Listed below are the few simple steps so one can guide you via to finish the Aadhaar SBI linking:
Step 1: The first step is to visit SBI's website – www.onlinesbi.com
Step 2: Login to your SBI internet banking account
Step 3: Below "My accounts" tab that appears on the left side of the display, select "link Your Aadhaar number"
Step 4: Type the UAN number and crosscheck the 12-digit number
Step 5: Click on "submit"
Step 6: After doing this, the remaining two digits of the mobile number will flash on the screen
Step 7: As soon as the method completes, the SBI account holder will receive a confirmation message at the Aadhaar registered mobile number
5 Steps to link Aadhaar Card to SBI bank account with the help of SBI branch: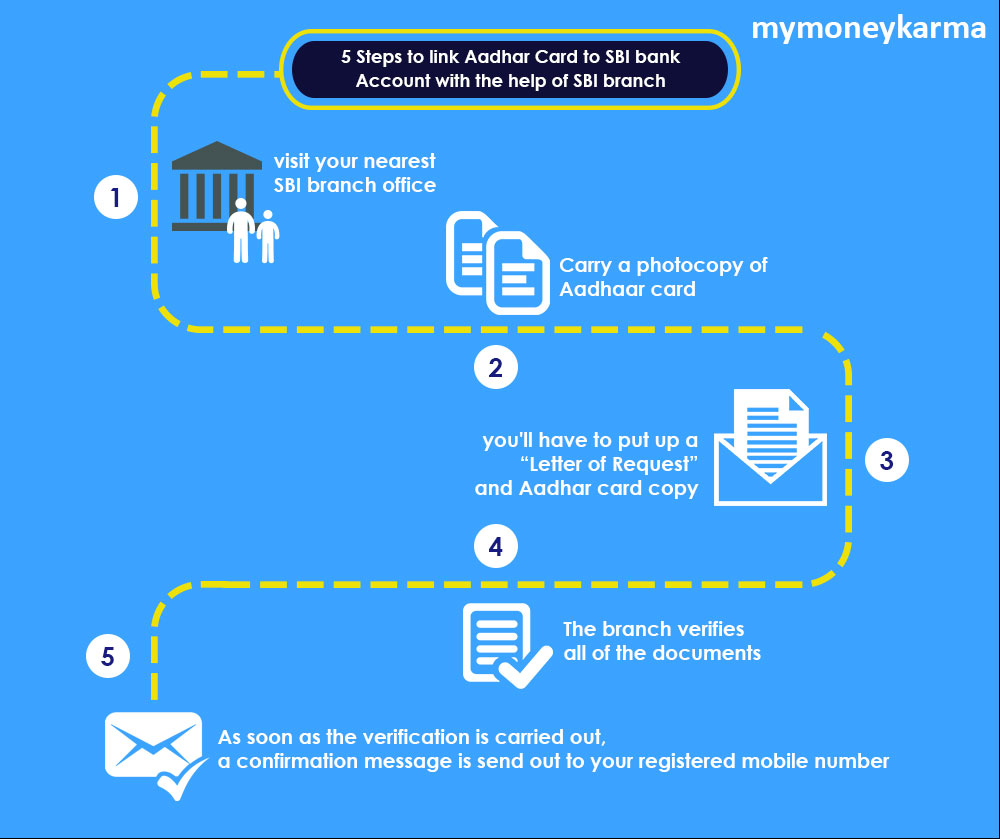 Aadhaar card can be linked to an SBI account by visiting the branch. Follow these steps to link:
Step 1: Visit your nearest SBI branch office
Step 2: Carry a photocopy of your Aadhaar card
Step 3: You'll have to submit a "Letter of Request" along with a copy of your Aadhaar card
Step 4: The branch will verify all the documents
Step 5: As soon as the verification is done, a confirmation message will be sent to your registered mobile number
SBI Aadhaar Card Linking via SMS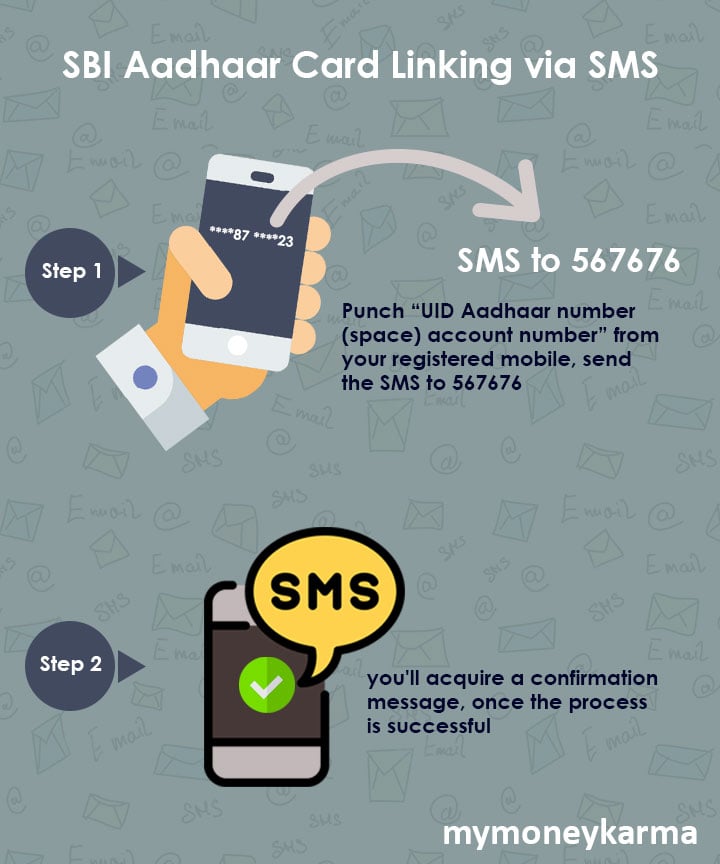 This is one of the simplest ways to link a bank account to Aadhaar card. Follow these steps to link your card
Punch "UID Aadhaar number (space) account number" from your registered mobile number and send the SMS to 567676

You'll get a confirmation message once the process is successful
Aadhaar and SBI Account Linking in SBI ATMs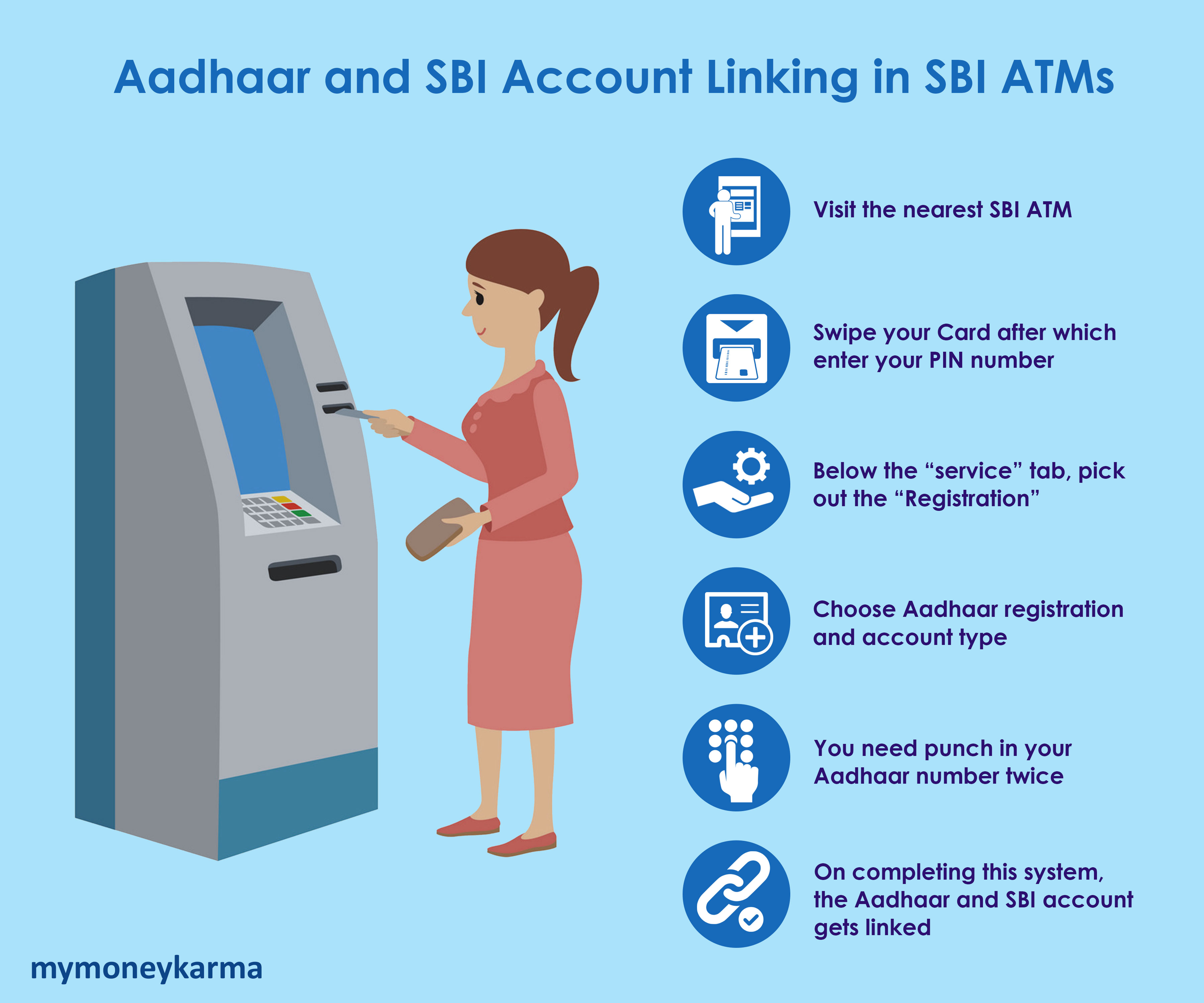 For the ease of an account holder, SBI also offers Aadhaar and SBI linking facility through the ATM. Follow these 6 simple steps to link Aadhaar-SBI account:
Visit the nearest SBI ATM

Swipe your card and then enter your PIN number

Below the "service" tab, pick out the "registration"

Choose 'Aadhaar registration' and select the account type

You need to punch in your Aadhaar number twice

Upon completing this, the Aadhaar and SBI account get linked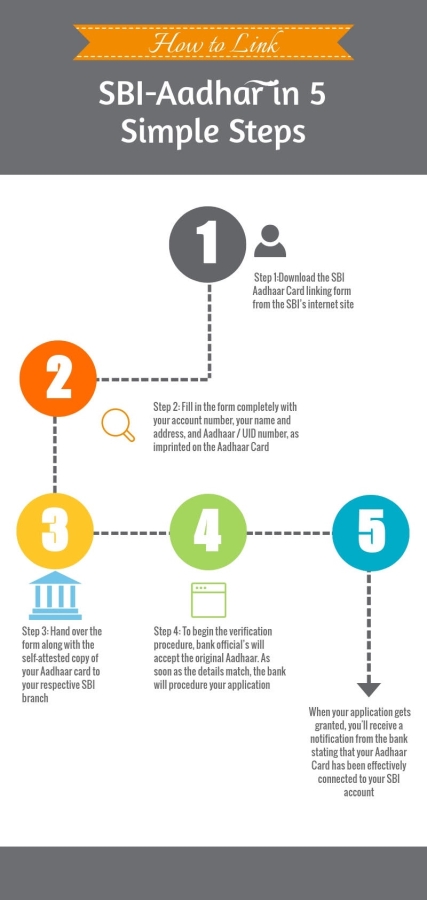 FAQs on SBI and Aadhaar Card Linking
SBI will freeze the accounts that are not connected to Aadhaar card.
In such a case, you receive an SMS that asks you to visit the closest branch and handover the letter of request along with a photocopy of Aadhaar card to finish the procedure.