Who doesn't use WhatsApp these days? This wonder app has revolutionized the entire concept of e-communication! Millennials are hooked on to WhatsApp no doubt, but it has also crept into the lives of the older generation.
In case you aren't familiar with WhatsApp, it was founded in 2009 as an ad-free mobile app for sending unlimited messages to your contacts. It is free for downloads and works in Android as well as iOS platforms. The app serves as a mind-blowing alternative to the traditional text-messaging platform.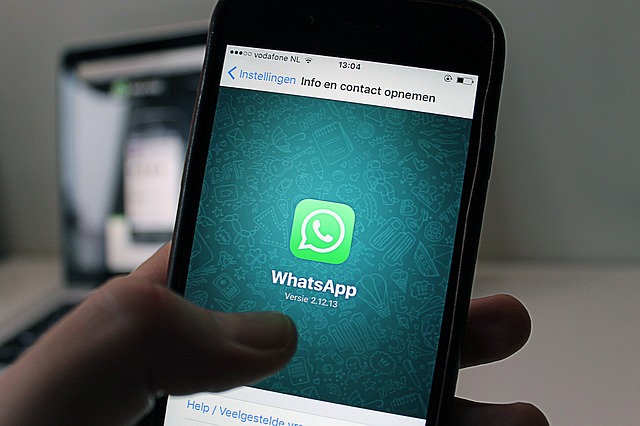 The app was originally developed and founded by two former Yahoo! executives - Jan Koum and Brian Acton. Facebook acquired WhatsApp in 2014 for about $19 billion! It was by far Facebook's largest and most significant acquisition. Whatsapp has a billion daily active users and nearly 55 billion messages are sent through this messaging platform every day. Its customer pool is expanding with each passing day.
The WhatsApp Story
Innovation, technology and correct timing back the success story of WhatsApp. What had started off as a simple messaging app, has gathered billions of loyal users who highly prefer the 'Whatsapp' style of staying in touch. Let's explore how this phenomenal app came into being.
Inception
When smartphones were slowly capturing the market in the first decade of the 21st Century, Jan Koum, an ex-employee of Yahoo! realized that apps would be the next massive hit in the tech market. Together with his ex-colleague Brian Acton, he developed an app with a simple interface, providing the users with a platform to stay in touch with their loved ones.
Foreseeing the unbeatable success of the app industry, Koum and Acton bootstrapped into this venture. The messaging platform with myriad features was launched as a status sharing app which didn't hit off well in the initial days. However, it rapidly gained popularity after iOS introduced its push notification feature.
Push notification allows apps to ping users even when they are not using the app. When Apple launched push notifications in In June 2009, Koum could identify the missing component in WhatsApp. He then revamped the technology, enabling the app to notify everyone in a user's network whenever the user changed their status.
Acton, who had worked together with Koum for nearly a decade before venturing on this startup, persuaded five other friends to invest $250,000 in seed funding. The founders added a messaging component to WhatsApp Inc and released the app in November 2009 exclusively on the iOS platform. It received tremendous success immediately and the number of active users increased to 250,000. Two months later, a BlackBerry version followed. An Android version released in 2010.
Growth
The app received massive success in very less time, mainly because the users found it very easy to use and they didn't have to register anywhere to use the application. A simple SMS verification process would enable a user to access the messaging platform. However, this became a bottleneck for the founders. The primary cost for sending verification texts to users started shooting up as more and more users joined the platform. The founders were strongly against the idea of earning money by introducing ads in the app. Unable to figure out another way of making money to cover the costs, WhatsApp switched from a free to a paid service. They started charging a meagre amount of $1 from iPhone users on the first-time installation and during yearly renewal from the Android users. People gladly paid for the services as it was a much cheaper alternative to SMS services.
After months of negotiation, WhatApp Inc got its first investor when Sequoia Capital agreed to invest approximately $8 million in 2011. During this time, apps like SnapChat, WeChat, Viber and Telegram became stiff competitors. However, WhatsApp continued to undergo technological developments - many innovative features were added and the interface was made more user-friendly. WhatsApp was able to beat all competition and reach a whopping 200 million active users in early 2013. The founders expanded their team by recruiting 50 more staff members and received another $50 million funding from Sequoia. By the end of 2013, WhatsApp was valued at $1.5 billion. Within two years, the number of active monthly users doubled to 400 million.
Acquisition
WhatsApp was adding a million users each day, and the numbers continued to surge. It had reached this point without spending a penny on targeted advertisements or big marketing campaigns. In February 2014, Facebook announced that it was acquiring WhatsApp. The deal was fixed at $19 billion, and it broke world records as it was the largest venture capital acquisition in history. Jan Koum joined the Facebook Board of Directors. Sequoia Capital, WhatsApp's first investor who also owned more than 15% shares of the company, received a return of around 50 times of its initial investment.
Soon after the acquisition was announced, WhatsApp users experienced a loss of service. There was a lot of angry outbursts across social media. A considerable number of WhatsApp users moved on to trying out other messaging platforms. Telegram was a rising competitor of WhatsApp, and they reported an additional 8 million downloads during this transition period.
However, WhatsApp soon made an epic comeback with happy announcements of upcoming features. The voice call feature was launched and WhatsApp reached more than 600 million active users, becoming the most globally popular messaging app. As their customer pool started growing, the app became free once again. Koum announced in January 2016 that the subscription fee wouldn't be charged anymore. People without credit cards couldn't install the app earlier. This change made it easier for the platform to attract more users.
Since then, the company has added a lot of charismatic features to the app while ensuring that the interface is uncomplicated and user-friendly. They tightened their security features and successfully retained their enormous pool of loyal customers.
With a vision of further growth, WhatsApp launched their business venture - WhatsApp Business - for small business use in January 2018. This platform is still in its initial stage but might become a thriving source of revenue generation in the years to come.
As of 2018, WhatsApp claims to have over a billion average daily users. If these numbers are seriously so good, there's no wonder why Facebook CEO Mark Zuckerberg took such a huge gamble in buying WhatsApp at such an exorbitant price.
Wow Features of WhatsApp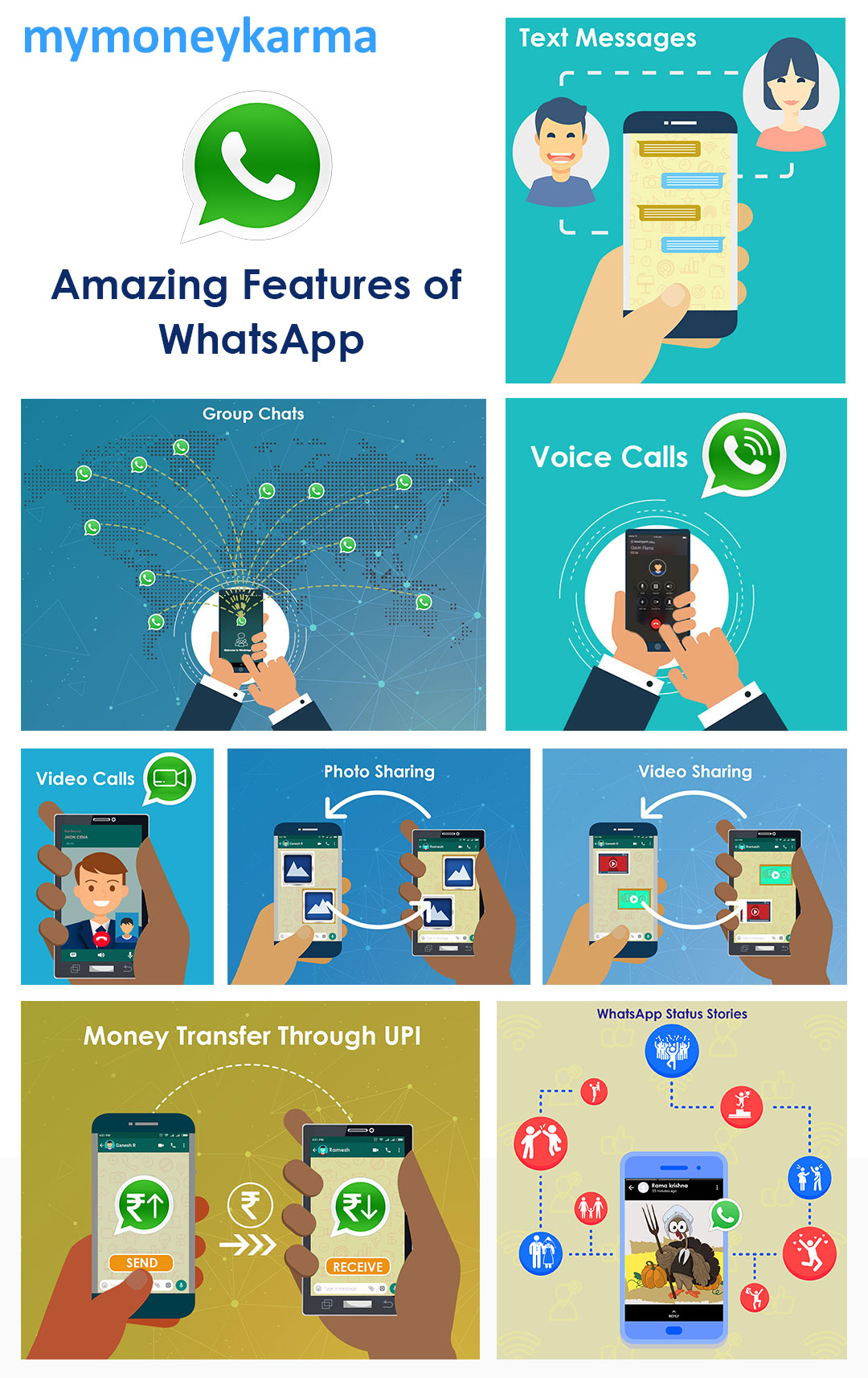 Although it is a messaging app, WhatsApp offers amazing features that help you stay connected with your near and dear ones in an endearing way. The developers are persistently toiling hard to improve the appearance and features of this fantastic app. It is extremely user-friendly and offers various handy features to the users. Read on to know what this 'wonder app' has to offer.
Instant Messaging: SMS has become a thing of the past. It is slow, expensive and inconvenient. WhatsApp was launched in 2009 and set a new trend in the world of mobile messaging. It uses your phone's internet connection to send instant messages for free.
Group Chats: WhatsApp connects you to people and lets you stay in touch with the groups of people that matter to you the most. You can not only interact with your family and colleagues through WhatsApp but also share media files with them.
Free Calls: In 2015, after its acquisition by Facebook, WhatsApp launched their Voice over IP service that opened up a whole new dimension of connectivity. This feature lets you make voice calls as well as video calls for free. It doesn't use your cell phone's call plan but your data connection to give you this free calling facility. Whether you are calling your friend living across the hall or your family living across an ocean - you need not pay a single buck for these calls.
Sharing: WhatsApp has made it extremely easy to send files to your contacts without taking the pains of opening your mailbox. Photos, videos, audios, documents, spreadsheets, PDFs, slideshows - send anything within 100mb to your contacts through WhatsApp.
WhatsApp Status: If you are someone who likes to be seen and heard, and if you enjoy sharing bits and pieces of your life with a close circle of people, we have good news for you! You could update your WhatsApp status with your thoughts, photos and even videos. All the WhatsApp users in your contact list can view your status and be a part of your joys or sorrows.
Security: Since you may be sharing your most personal moments on WhatsApp, you get a top class end-to-end encryption facility to ensure your security. This feature makes sure that your messages and calls are secured so that only you and the one you are communicating with can access the conversation. Nobody else can read your WhatsApp texts or eavesdrop on your WhatsApp calls - not even the people working at WhatsApp!
Money Transfer: WhatsApp has recently rolled out its jackpot feature: WhatsApp Payment. Now you can transfer money directly from your bank account to another bank account through WhatsApp's UPI. It's a fast and swift way of transferring money without having to store balance in a wallet. You can simply send money to your contacts with a couple of clicks while chatting with them on WhatsApp. This is the first messaging app that has come up with this excellent feature; it has increased the convenience of their users to unfathomable heights!
WhatsApp Payments - The Promising Trend Setters in UPI
What is UPI?
UPI stands for Unified Payments Interface. It is a system that brings together multiple bank accounts (of participating banks) into a single mobile application, merging different banking features and merchant payments under a single roof. To explain in lucid language, if you have bank accounts in different banks registered with the same phone number, you can access all these accounts through a single app. The app brings all your bank accounts under a single UPI ID through which you can transfer money, pay to merchants and access several other banking facilities.
How Does UPI Work?
In order to use the UPI facility, you need to choose a UPI platform and register your phone number. All your bank accounts linked to this number will get added and registered for UPI. Once you are successfully registered, you will get your UPI ID. This ID will enable you to send or receive money directly to and from your bank account. However, you can transact with only those who have already set up their UPI IDs.
The UPI Scenario in India
The Government of India paved the way for this gem of a financial tool. With an aim towards digitally empowering the Indian society and bringing in a financial inclusion across the country, Prime Minister Narendra Modi had launched BHIM or Bharat Interface for Money - an extremely convenient way of financial transaction - on December 30, 2016, right after the gigantic waves of demonetization hit the Indian populace.
When BHIM hit a huge success, Google followed suit. In September 2017, Google launched its Google Tez app which is also based on the same UPI platform. Don't mistake these for a mobile wallet like Citrus, Freecharge or Mobikwik. It's much more simple and convenient. These apps facilitate direct money transfer via bank accounts.
Many companies and platforms are adopting UPI these days. PayTm, PhonePe and Mobikwik are a few among the various companies that have recently upgraded their wallet-based payment facilities to UPI in order to provide a cashless and a seamless payment experience to the users.
A Little about WhatsApp Payments
The Whatsapp UPI platform retrieves your account information linked with your mobile number in a masked manner. It means that the UPI app cannot see all the details of your bank account. The exchange of information and financial transaction happens over secure banking networks authorized by the RBI and the UPI apps can't store or even use your information.
WhatsApp's UPI feature is probably going to be the biggest boost to the digital payment landscape in India. It can break records in digitizing India's money market. UPI platforms are in vogue these days, but most of them require users to learn the intricate details of a new software platform. On the other hand, WhatsApp, undoubtedly, has a massive user base in India with over 200 million Indian users. India is one of its biggest markets across the globe. Indian users are already familiar with the WhatsApp platform and they trust it; they would be more open to exploring innovations and experimenting new features within their favorite app. WhatsApp also has a strong potential to dominate Indian P2P payments, since millions of people have already joined the online platform in the region, owing to the availability of cheap smartphones and affordable plans. The convenience and ease of access make it all the more appealing to the Indian crowd.
Initial Controversies
The pilot edition of WhatsApp's payment system was a completely closed ecosystem and you could transfer money exclusively to other WhatsApp UPI accounts. According to the National Payments Corporation of India, all UPI platforms are required to adhere to the spirit of interoperability. This enables UPI users to transact with another UPI user, irrespective of the platform. WhatsApp's trial stint with UPI wasn't a sustainable plan and invited a backlash from the industry as well as the regulators.
PayTm, who is fiercely competing against WhatsApp by launching its own messaging platform recently, criticized WhatsApp Payments and accused it of violating NPCI's rule of interoperability. Furthermore, it was also pointed out that WhatsApp payment is a security risk. All UPI enabled apps should be password protected to ensure safe transactions, but WhatsApp had no concept of password at all.
In response to the controversies, WhatsApp made a great comeback by fixing all these issues. Now you can use WhatsApp payments to transfer money safely through BHIM's secured payment portal to anyone with a UPI ID in any platform.
WhatsApp Business
WhatsApp's new year gift to the world was its new business platform called 'WhatsApp Business.' This grand plan created a forum for small business owners to interact with their customers and indulge in business transactions for free. The app has interesting features that let you sort, automate and quickly respond to messages. The App lets you create a business profile to provide useful information such as your address, business description, email address, website, etc. for your customers to connect with you easily. It is rumored that this app will soon get a new feature that will allow businesses to showcase their products through the app for free.
All you have to do is to download the app and sign up with your registered business phone number which is not linked to any other WhatsApp account. You will be asked to pick a name for your business which cannot be changed once chosen.
When your account is set up, you can add your business description, contact details, store location, website details and then start engaging with users and also monitor your activities.
Who is it for?
WhatsApp Business is meant for small-scale businesses. It has been designed to offer a concierge-like service from business owners to customers. It offers a platform for business owners to interact well with their customers and literally run their business from their phones. Business owners use the WhatsApp Business app whereas customers use the normal WhatsApp app to receive support and updates.
Competitors
Apps catering to business users are aplenty. Goodbox, which was founded in 2015, is one such app that works on a similar model. It is a platform that has Mini Apps for thousands of businesses within it and helps local businesses to connect with customers. PayTM, Hike and Truecaller have similar features, but mostly at the service end. However, none of these apps have a customer base like WhatsApp. The scope of WhatsApp in this field is so wide that they had to come up with a separate app to cater to the business dimension. WhatsApp Business looks promising enough to beat all competitors and march ahead.
Features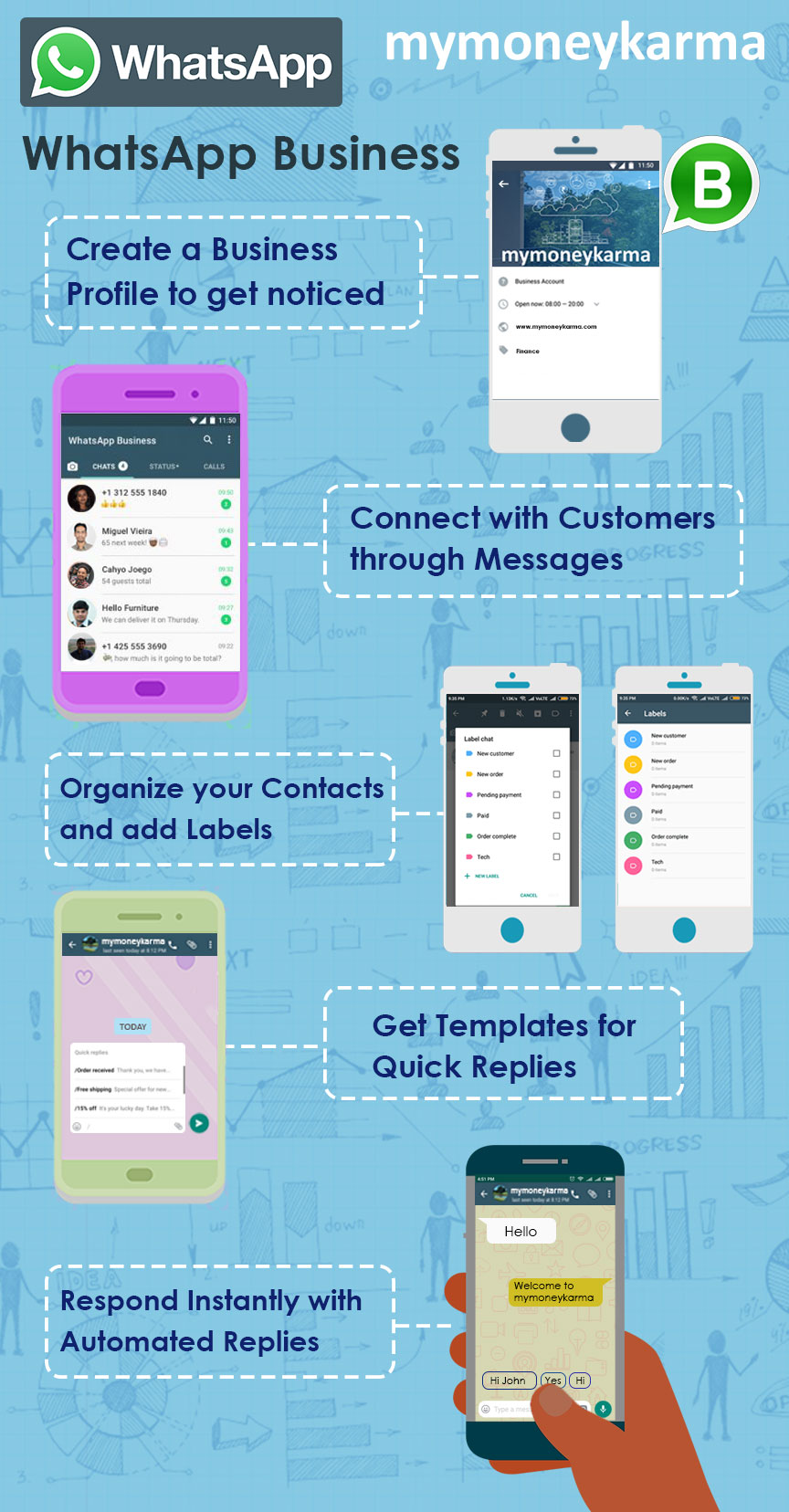 It is Free
You can list your business in this app and stay in touch with your clients at no cost. Isn't that amazing? Imagine a business that can bombard its customers with free of cost marketing messages, without involving a teleservice provider! The erstwhile SMS mode of marketing is on the verge of redundancy. Moreover, creating and operating a personal business app could be a complex and expensive proposition for small-scale business owners. WhatsApp reduces these difficulties by providing a familiar and user-friendly platform. Moreover, customers would also be more comfortable with this mode of transactions as they interact with trusted sources and can easily filter out the spams.
Business Profiles
This app lets you build your business profile which will help customers in gathering additional information about your business such as the store location or your website. These details will establish your prominence in the business app and help you draw your customer pool. WhatsApp makes sure that the business registrations are verified for authenticity; hence, customers would know that contacts made through WhatsApp Business are trustworthy.
Messaging Tools
This app has a set of extremely useful messaging tools. Business owners can send quick replies to general and frequently-asked questions. This tool also facilitates a virtual business desk through which you could greet your customers and introduce them to your business through messages, or inform your customers if you are unavailable.
Statistics
When you interact with a customer through WhatsApp Business messages, the app records the data and tells you how many messages were sent, delivered and read. It is a small and useful feature that can give you an insight into how your customers are receiving your marketing messages; you can accordingly tweak the content of your messages for better response.
WhatsApp Web
WhatsApp Business can also be accessed through WhatsApp Web, where you can manage the service online, without using a mobile app. The mobile app has much more intricate features than WhatsApp Web, but we can expect it to reach perfection once a separate application for WhatsApp Web is launched.
WhatsApp - Latest Revamps
The developers at WhatsApp are perennially toiling hard to improve the WhatsApp experience. Here are a few recent developments and features that WhatsApp users are excited about.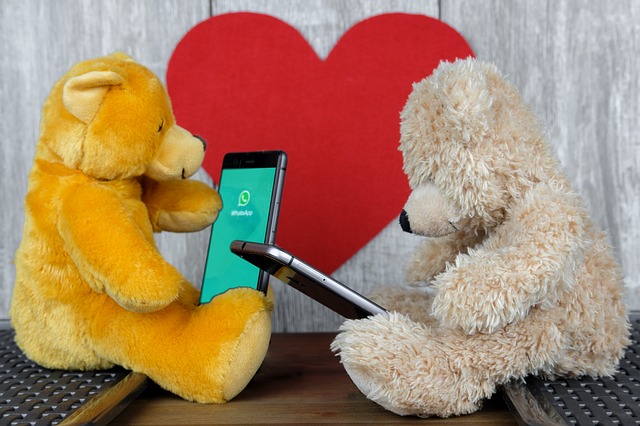 Sticker Reactions Feature
Facebook stickers had gained huge popularity shortly after its release. Now WhatsApp is on its way to get reaction stickers to amplify your moods while chatting. WhatsApp has been constantly and consistently developing its emoticon database to make the chatting experience smooth and enjoyable. The addition of stickers would not only make it more fun to text but also add more colors and expressions to your chats. The Sticker Reactions feature is being tested in the WhatsApp beta version 2.18.189. Quite similar to the stickers on Facebook Messenger, you will have to download the WhatsApp stickers in packs, which will be segregated into four categories: Happy, Sad, Love and Wow. The feature is disabled at the moment for development reasons but a 'sticker' button will soon be added next to the GIF button, and you can expect it to release very soon.
Group Calls
A good news for all those BFFs and families separated by distance - WhatsApp will soon be able to bridge the gap and unite everyone through their upcoming group call feature. As if WhatsApp hadn't made life already too easy for us with their free voice and video calling features, now there is the group call that will let you virtually hang out in groups. You have to make an initial voice or video call to someone; once the call is connected, an 'Add person' icon will appear, which will let you add more users to the call. The feature is already available in a few beta versions of Android and iOS. It's a very convenient way to bring people together - the world is eagerly waiting for this update to launch.
Windows App for PCs
Have you ever had that busy moment when you are glued to your PC and you do not want to take your eyes off the screen and pick up your phone to send a message on WhatsApp? Web WhatsApp has always been a perfect aid in such situations. If you aren't aware, WhatsApp Web is a web client which you can use through a web browser after you sync it with your mobile device's connection. To explain it further, it lets you open WhatsApp from your PC's web browser. It is extremely convenient, but it has a couple of glitches. Moving another step ahead towards the convenience of Windows PC users, WhatsApp is soon launching a desktop app. Now you can interact through texts while working on the system.
Millennials Turn to WhatsApp for News
The use of social media for news had grown continuously for quite a few years but has started to deplete of late. A recent survey by the Reuters Institute suggested that youngsters in the US are ditching Facebook for WhatsApp as a platform to consume news. World's largest social network, Facebook, has suffered a loss of 9% usage for news from 2017. Consumers are showing a higher preference for messaging apps to gather and discuss news in a more private way.
Product Showcase Feature
It is reported that WhatsApp Business is adding a new feature to let business-users offer an online catalog of their products. This feature aims to boost the user base of WhatsApp Business, which already has three million active users. WhatsApp is also planning to launch their business app for iOS, which will undoubtedly pull more users into the business platform. The app doesn't plan to offer a platform for selling products, but the online catalog can be a good place to showcase new and upcoming products lines to attract potential customers. This feature might help WhatsApp in generating revenue as they could impose charges on the businesses for user referral to the products.
Label Forwarded Messages
After the successful improvisation of the "Reply" feature, WhatsApp is set to provide a label for forwarded messages. The Android Beta version v2.18.179 has already received this feature and the developers are working on fixing a few bugs. Once this feature is made available to all users, you will be able to distinguish clearly between original and forwarded messages. A small label with the word 'forwarded' will appear on top of each forwarded message whether you forward a message or receive one. This feature will help you segregate the important messages from the spams, especially in a group chat. The circulation of spam can be curbed in this way.
Media Visibility Feature
WhatsApp's downloaded media files often mess up the phone's media gallery. WhatsApp's new media visibility feature allows you to choose if you want to make the received WhatsApp media files visible in your gallery. Disabling this feature lets you restrict the media from cluttering your gallery - you can view all the photos and videos within WhatsApp, but they won't be accessible from your phone's gallery. This feature is enabled in your phone by default. You can easily disable it by turning off the 'Show media in gallery' option in the 'Data and Storage' section of WhatsApp Settings.
WhatsApp Business Free for Now
After paying a hefty amount of 19 billion dollars to acquire WhatsApp, Facebook is now looking for ways to monetize it. The WhatsApp Business app has so far provided a unique platform for businesses to connect with customers for free. However, there is a bad news for businesses! WhatsApp might soon start charging you for these facilities.
Delete Message feature
WhatsApp's "delete message" feature has been one of the most warmly welcomed updates in recent times. Gone are those days of utter shame and embarrassment over accidentally sent messages that could not be deleted earlier. The beginning of 2018 saw the advent of this magical feature which lets you permanently delete messages that you have sent by mistake so that no recipient can view it. Convenient, isn't it?
Live Location Sharing
WhatsApp's live location sharing feature has been a benchmark for other messaging apps. You can find this feature in the 'attachments' section of the app. Once enabled and shared, your location will be broadcasted to the chosen recipients and they will be able to follow your live movements on the map. This feature lets you share your live location for up to 8 hours. You can use this handy feature to give directions as well as for safety purposes during times of crisis.
Download All Data
WhatsApp has been updated with the 'Request Account Info' feature. This feature allows users to download all the data that WhatsApp has collected from their accounts. This includes their account information and settings but not any personal messages. Facebook, being the parent company of WhatsApp, has also added a similar feature to download all the data that the company has on its users. However, the company claims that it uses end-to-end encryption which doesn't allow anyone (not even WhatsApp) to access the personal or group messages of daily communications. To view the data that WhatsApp has collected so far, go to Settings > Account > Request Account Info, where you need to tap the 'Request Report' option to be able to view the data.
WhatsApp in Global News
WhatsApp has often made it to the global news headlines. Let us go through the recent incidents that grabbed the attention of the media.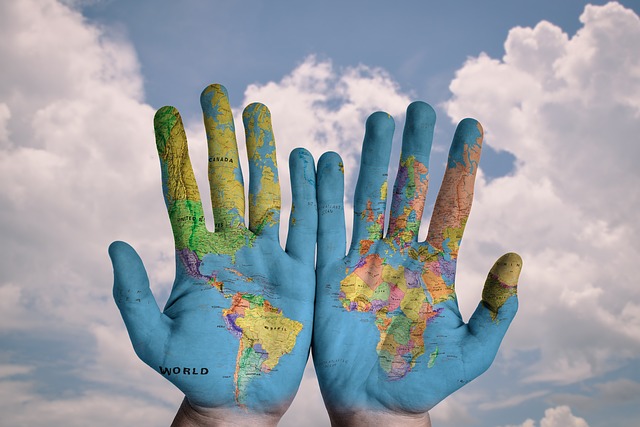 Founder Quits WhatsApp
WhatsApp's co-founder Jan Koum, who was also on Facebook's Board of Directors after WhatsApp's acquisition by Facebook, has recently parted ways with the company. Although he hasn't alerted the media about the cause behind the departure, it is rumored that he has had a disagreement with Facebook over privacy and security issues. WhatsApp was launched as an ad-free mobile app. However, Facebook started gathering some personal data of WhatsApp users to improve their ad targeting. This was a matter of disdain for Jan Koum, who decided to call it quits
Payment Feature Launched in India
WhatsApp Payments was finally launched in India after the company fixed all the bugs and amended the problems in the feature. The beta version of this feature was only restricted to WhatsApp users and reportedly violated the interoperability norms of National Payments Corporation of India by keeping their transaction confined within the closed ecosystem of WhatsApp.
Braving all criticisms, WhatsApp made the required changes and set forth to launch its payments feature in India. The UPI scenario in India has been through a recent boost, and WhatsApp is set to capture the largest audience in India. WhatsApp messaging app is immensely popular in India, and the company is expecting the payments feature to receive huge success in India. It is reported that WhatsApp is trying to set up a 24-hour customer support team for users of its payments services.
WhatsApp Tax in Uganda
In a bid to raise revenue, the parliament of Uganda has recently imposed a tax on the usage of social media. WhatsApp, Facebook and Twitter users of Uganda will now be charged 200 Ugandan Shillings (roughly Rs. 3.6) per day for the services, which amounts to roughly Rs. 1,300 per year in a country where. according to World Bank figures, the gross domestic product per capita was roughly Rs. 41,300 in 2016. The tax will be levied daily by mobile phone service providers on each SIM card that is used to access the targeted social media platforms.
Opponents of the law have criticised it by saying that the law has been formulated to stifle the criticisms of the Ugandan President. The social media has always had a central role in political organizing, and this law intends to curtail all possible political protests being nurtured in the social media against President Yoweri Museveni, who has been in power since 1986.
About 40% of Uganda's 40 million citizens use the internet. Facebook and WhatsApp are a few among the widely used social networking platforms in Uganda. Moreover, the internet has become an essential factor in our daily life. Where most governments are being responsible and attentive towards their people and reducing the cost of internet access, the Ugandan government has chosen to do the opposite. This absurd new law in Uganda has received a lot of criticism from all over the world for its regressive nature.
WhatsApp Drama Series
South Africa set a new trend when it launched a WhatsApp drama series on 4th June, 2017. The drama series, known as "Uk'shona Kwelanga" or "Death of Langa" was a seven days long ad campaign by a South African insurance company called Sanlam. The entire series took place within WhatsApp - using texts, photos, voice notes and video. The interested viewers had to register for the series through SMS, following which, they were asked to save a number on their mobile phones. They received daily episodes via WhatsApp for seven days from the saved number. The plot revolved around a family dealing with the death of its patriarch. The story was told in such an intriguing way that the viewers would feel like they were a part of the family's group chat. It was indeed a novel concept and a very interesting way for storytellers to express themselves, utilizing the far-reaching advantages of the digital media.
WhatsApp Bans Under-16 Users in the European Union
WhatsApp recently came under surveillance of some European governments due to its end-to-end encrypted messaging system and also for the parent company's plan to get more data from WhatsApp to enhance their targetted advertisements.
A European group filed legal complaints against Facebook, Instagram and WhatsApp over the unfair ways in which they obtained data from users and demanded that these companies comply with the new rules that protect the privacy of people's data. This group campaigns for data protection rights and alleged that these companies formulated new terms of service to suit their data-obtaining requirements and made it compulsory for users to agree to these new terms and conditions in order to continue using the service. Users who refused these new terms had to delete their accounts. This system forced users to agree to unreasonable terms pertaining to data sharing and violated the policies of General Data Protection Regulation (GDPR).
WhatsApp decided to ban under-16s from using the messaging platform and raised its minimum age limit from 13 to 16 years to help the company comply with new data protection rules of GDPR. However, this rule is only on books as WhatsApp hasn't been able to clarify how they are making sure that under-16s are not using false information to enroll for the services.
No WhatsApp on Old Phones
WhatsApp has recently announced that it will cut support of its service on older mobile handsets from the 1st of February 2020. Phones operating on versions older than Android 2.3.7, Nokia S40 and iOS 7 will lose WhatsApp support as the company will cease to develop actively for these older operating systems. Google has revealed that nearly 0.3% of Android devices are still running on these older versions which might add up to almost six million smartphones and tablets.
Egypt Sets up WhatsApp Hotline for Fake News
Egypt's General Prosecution office released a statement in March that a new hotline will be operational through WhatsApp for reporting fake news that has the potential to endanger the nation's security and public interests. Prosecutor General Nabil Sadek has undertaken this endeavor. According to the statement, this hotline will enable the government to monitor whatever is published on social media and different other media outlets, and take action whenever needed. Citizens of Egypt can reach out to the General Prosecution office through this Whatsapp hotline to report any of the fabricated news violations.
The Egyptian government has reportedly accused Al-Jazeera, Qatari News Agency, The Huffington Post Arabic and several other online publication houses for publishing fabricated news to incite terrorism. The Egyptian government has blocked these Qatar-linked websites, as well as a few other western ones like The New York Times, CNN and The Washington Post since the beginning of 2018.
This drastic move by the Egyptian government has been strongly criticized by many as it amounts to media censorship. The ban on these websites is arbitrary as there hasn't been any proof that these websites are churning out fake news. Most importantly, such an unreasonable ban will only arouse the curiosity of the citizens, who can easily bypass this ban by using VPNs and the government wouldn't have any control over it. Unless the citizens are convinced that there is fake news circulating in the media, the WhatsApp hotline can barely be of any use.
Kimbho - Competing WhatsApp in India
Baba Ramdev aka Swami Ramdev - an Indian Yoga practitioner, turned into a political enthusiast and a television personality - is all set to compete with WhatsApp in India with "Kimbho," a rival messaging service. This app has WhatsApp-like features such as text messaging, voice and video calls, stickers and doodles and it is available for free on Android and iOS platforms.
WhatsApp has nearly 200 million users in India. It is popular among most smartphone owners in major cities in the country. Kimbho doesn't have any possibility of beating WhatsApp with its feature set, but it could garner a lot of users and challenge the Facebook-owned service over time. Baba Ramdev might not be able to convince all Indians to switch over to Kimbho, but he has the ability to influence an expanding follower base across the country. He has successfully competed with major companies like Nestle, Colgate-Palmolive, and Unilever, and has managed to build a superbrand "Patanjali," that sells everything from toothpaste to instant noodles to SIM cards. However, the app has been reported to have myriad security glitches and has faced heavy criticism. The Kimbho app has been taken down from both iOS and Android platforms. It is reported that the app is undergoing technical modifications for a come-back very soon.
WhatsApp Launches the Group Call Feature
The long wait is over! WhatsApp has finally launched the much-coveted and long-awaited 'Group calling' feature with both voice and video support. The feature had been in beta mode for a while and has gathered positive reviews. This novel and dynamic WhatsApp feature is now accessible to both iOS and Android users around the world. WhatsApp Group Call allows up to four people to video-chat with each other at the same time. The video call feature of WhatsApp was earlier restricted to two participants. Apparently, WhatsApp users are spending over 2 billion minutes on this feature in a day. This highly-anticipated feature is sure to incite jealousy in other messaging platforms.
In case you are wondering how to access this feature on WhatsApp, here's mymoneykarma's quick and handy guide:
Download and install WhatsApp's latest update from the Google Play store or App Store.
Ensure that you have a moderately fast internet connection.
You're all set to make a WhatsApp Group Call. You should know that you need to make a one-on-one call initially and then add subsequent participants. Here's how you do it:
Open WhatsApp on your phone.
Select the Contact.
Select the 'Voice Call' or 'Video Call' button. They are at the top-right corner, side by side.
Wait for the call to be connected.
Tap on the 'Add Participant' button. Again, it's on the top right corner.
Select the second Contact whom you want to add to the call.
Tap on the 'Add' button.
Repeat steps 4 onwards if you wish to add more participants.
Spend some amazing moments with your near and dear ones...simultaneously!