With a low density front page, comprehensive and easily noticeable search engine, advanced 2-step verification security system for its customers, and a solid rating of 4.5 stars of the netbanking mobile application on google play, HDFC netbanking secures the top spot in the Indian netbanking segment.
There are many ways in which you can register in HDFC netbanking.
BENEFITS OF HDFC NETBANKING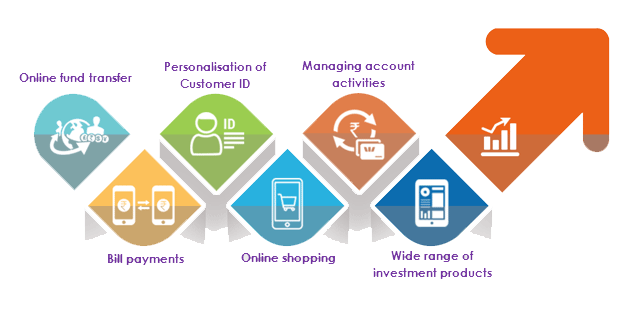 Online fund transfer:
The netbanking facilities include online fund transfer through "NEFT," "RTGS" and "IMPS". The basic features these three modes of fund transfer have been discussed below.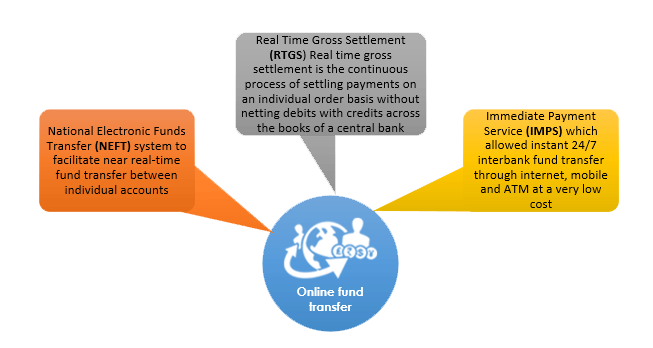 Bill payments:
Payment of bills and shopping online becomes a lot easier with HDFC netbanking. The online bill payment services provided by HDFC are
BillPay
DirectPay
InstaPay
Prepaid mobile recharge
`
Personalization of customer ID
HDFC netbanking allows the personalization of the customer's user ID. Registered customers can choose their username and password to login to their profiles and generate an account that suits their consumption and lifestyle.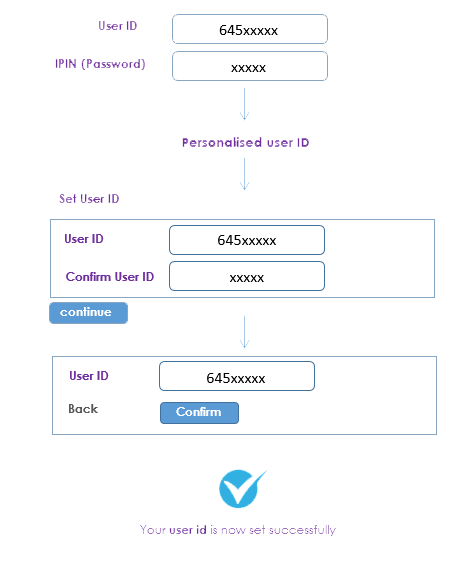 Online shopping:
Online shopping is seamless and uncomplicated with HDFC netbanking. The registration process for netbanking is cost-free, and you can avail a number of coupons and discounts by creating a netbanking user ID with HDFC bank.
Managing account activities:
A comprehensive range of 200+ transactions can be done using HDFC netbanking. You can create a personalized user ID and manage your account activities up-to-the last second using the HDFC netbanking portal. You can sign up for free with mymoneykarma and view all your HDFC account transactions at one place.
Wide range of investment products:
Indian investors have multiple options to choose from in order to grow their wealth. "Investment in stocks," "mutual funds," "recurring deposits" and "fixed deposits" are some of the segments where an investor might want to invest. HDFC netbanking acts as an efficient portal for such investment decisions. A wide range of investment products like fixed deposits, recurring deposits, mutual funds, etc. are made available on the portal for easy viewing and managing of the investments.
The Investment Products of HDFC Netbanking:
Recurring deposit: Recurring deposits are considered to be a special kind of term deposit in India. People with regular incomes can deposit a particular amount every month and would still receive the same interest rate as fixed deposits. HDFC provides flexibility in the amount of monthly recurring deposits. The recurring deposit advice generated by HDFC bank can be downloaded and saved in pdf or excel format, and it can be liquidated easily by following a few simple steps.

Fixed deposit: Fixed deposits are the financial instruments that allow the customers to deposit an amount for a stipulated period of time (6 months, 1 year, 2 years, etc.). One of the major benefits of fixed deposit over a savings account is that it accumulates a greater rate of interest for the customer. HDFC netbanking can help you to avail various other facilities linked to your user ID. There's a need to follow these few simple steps to avail its benefits.

Mutual funds: This is another investment product of HDFC netbanking. Since mutual funds are pooled by asset management companies to ultimately invest in securities, for you to have maximum returns by investing in mutual funds, it is important to rely on a strong financial asset management institution; and HDFC netbanking provides a wide control over the investments that you make, and it also facilitates the investments in "NFOs" and "SIPs" online.

Demat account: A demat/dematerialized account records all the details of the customer's investments in one place. The demat tab in netbanking provides an easy and convenient way to manage your demat account. Benefits of HDFC netbanking after linking demat account with the user ID are immense. Some of them are listed below

Yearly transactions can be viewed in one go
Billing and holding statements can be downloaded with ease
Statement calendar can be maintained
Personal loans made easy - Another benefit of HDFC netbanking is the large variety of tailor-made loans for the customers. Customers can avail the benefits with minimal transaction costs, zero paperwork and quick eligibility checks.
Smart form of transactions - Personalized credit and debit cards with a host of rewards, cashbacks and discounts are some of the basic features of HDFC bank. So now you can login to HDFC netbanking and upgrade your entire lifestyle!
We are here to guide you through some FAQs regarding HDFC netbanking
How to create an

HDFC netbanking account

? You just need to follow a few simple steps to generate a personalized user ID and IPIN (password); and by using those credentials, you can login to your HDFC netbanking account.
What is an IPIN? IPIN is the acronym for Internet Personal Identification Number. It is important to generate an IPIN in order to be able to login to your HDFC user account.
How can I reset my IPIN? IPIN can be regenerated by following a few simple steps

Enter your customer ID
Authenticate the transaction by using the OTP generated in the registered mobile number
Provide the requested details
Set your IPIN
Login to netbanking using your user ID and IPIN

How can I apply for HDFC credit cards using netbanking? You can apply for credit cards by using netbanking through these three simple steps:

Login to netbanking using your customer ID and IPIN
Click on credit card apply link
Fill up the application form and submit

How can I carry out online transactions when the HDFC netbanking is down? You can check if the HDFC webpage is down by visiting the server checking page on hdfcbank.com. After getting a report on the server status, you can determine the cause for slow performance of the webpage. After the cause is known to you, you can report an issue by submitting a comment using your Facebook ID. However, any mode of online transaction cannot take place when the netbanking webpage is down; so, it is important to fix the problem that is slowing down the webpage in order to transact online smoothly.