How to Link Aadhaar Card to HDFC Bank Account
The government authorities of India has made it mandatory for people to link their Aadhaar Card with their bank accounts. If you want to make sure that the benefits offered through different government schemes are transferred immediately to the account, then linking your Aadhaar details with your bank account is imperative.
Linking Aadhaar card with HDFC bank account is simple as you have got seven methods to complete the procedure.
Link Aadhaar Card to HDFC Bank Account through Offline Mode
Prior to linking your Aadhaar Card with your HDFC bank account through the offline process, you should have certain documents ready including your bank passbook, your E-Aadhaar or Aadhaar card, and the form for linking your Aadhaar card to your HDFC bank account.
Step 1: The utility form can be downloaded from the bank's official website, and you'll have to take a print out of the same and fill it up with the necessary data, which includes your bank details, your Aadhaar number, etc.
Step 2: As soon as you have filled out the form, you should go to a branch of HDFC bank and submit the application form as well as a photocopy of your Aadhaar card to a representative of the bank
Step 3: The bank will carry the form along with a photocopy of the Aadhaar Card to perform their verification process
Step 4: Once the bank has validated all your facts, your Aadhaar card will be linked with your HDFC bank account, and you'll be notified by the bank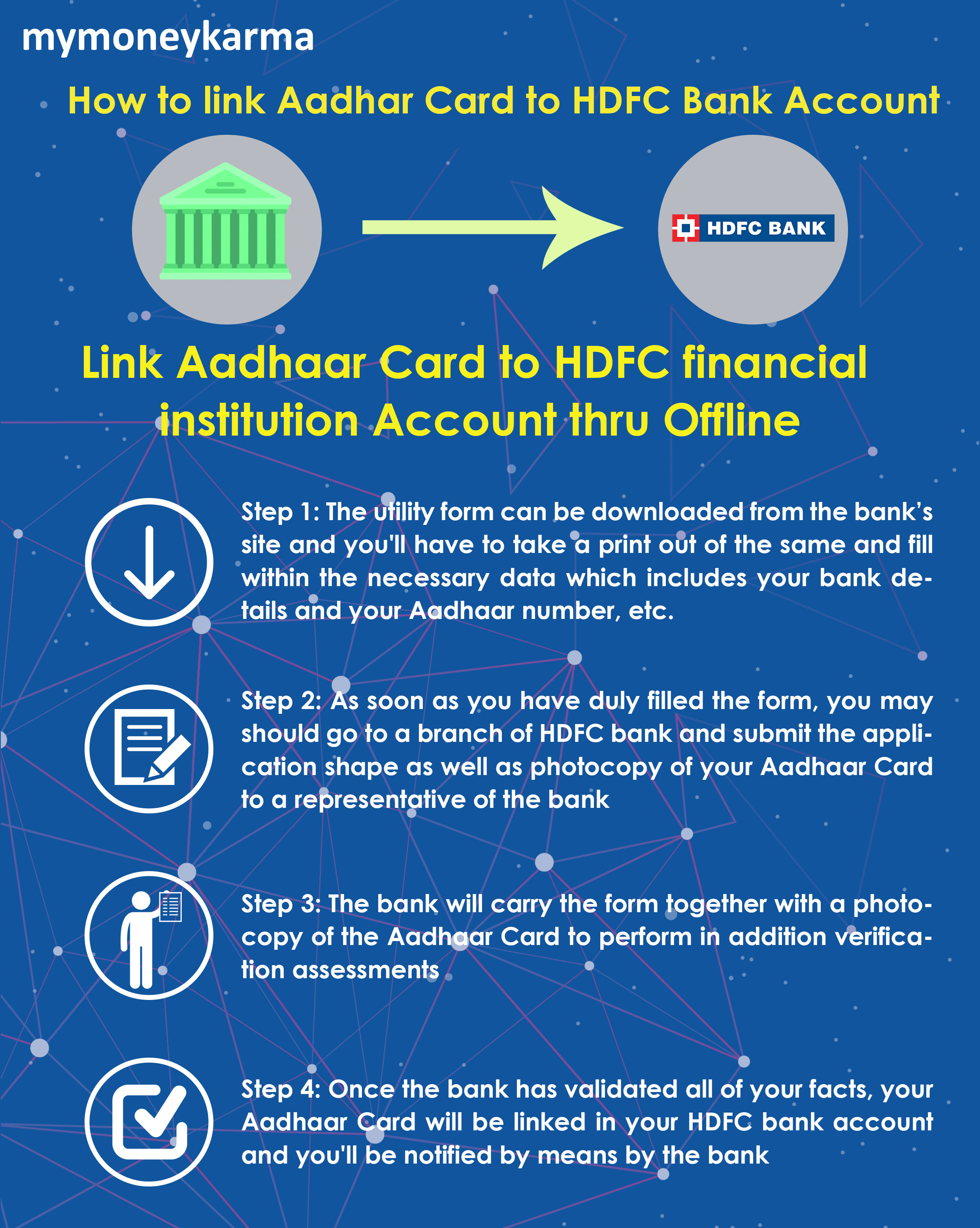 Link Aadhaar and HDFC Account via Internet Banking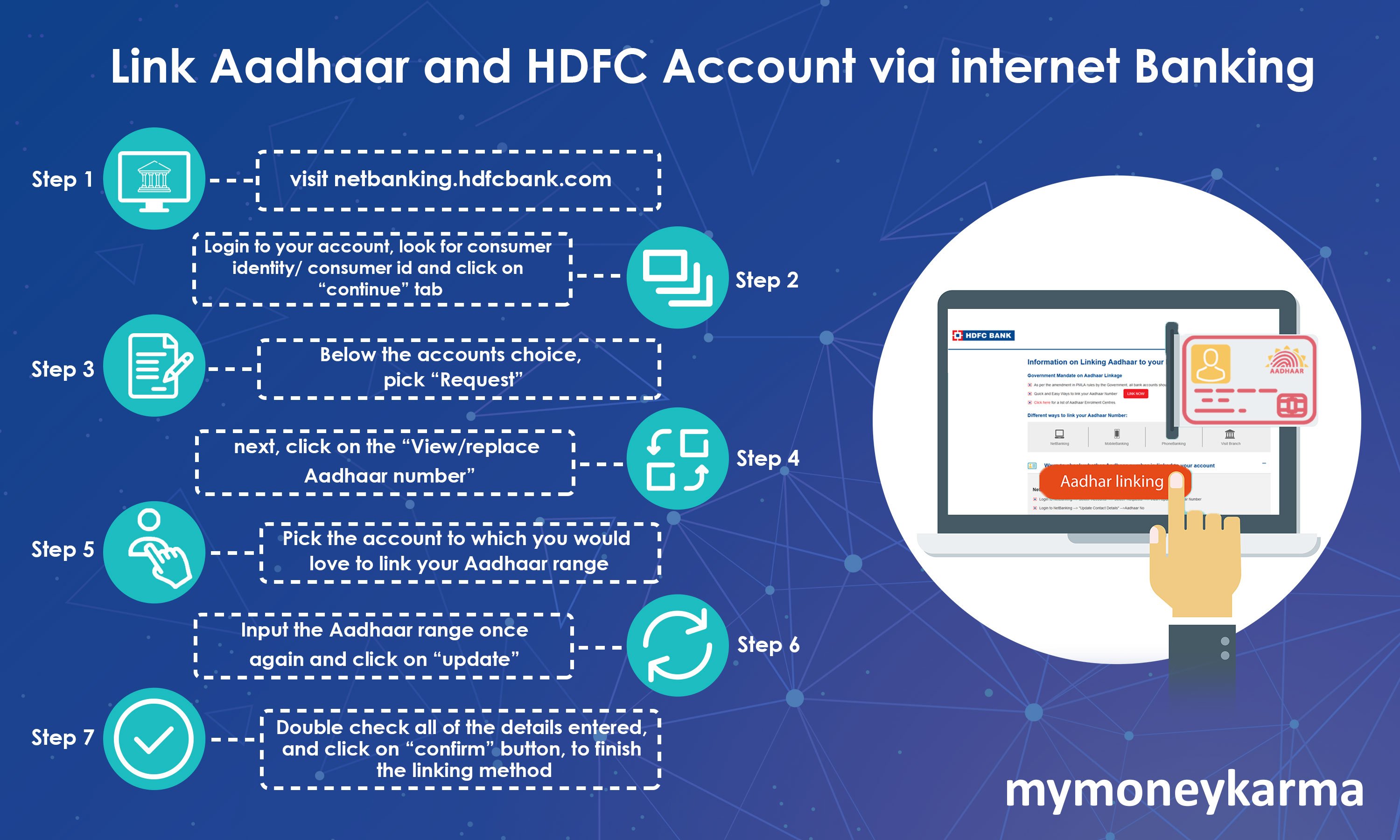 Link Your Aadhaar and HDFC Account through Mobile Banking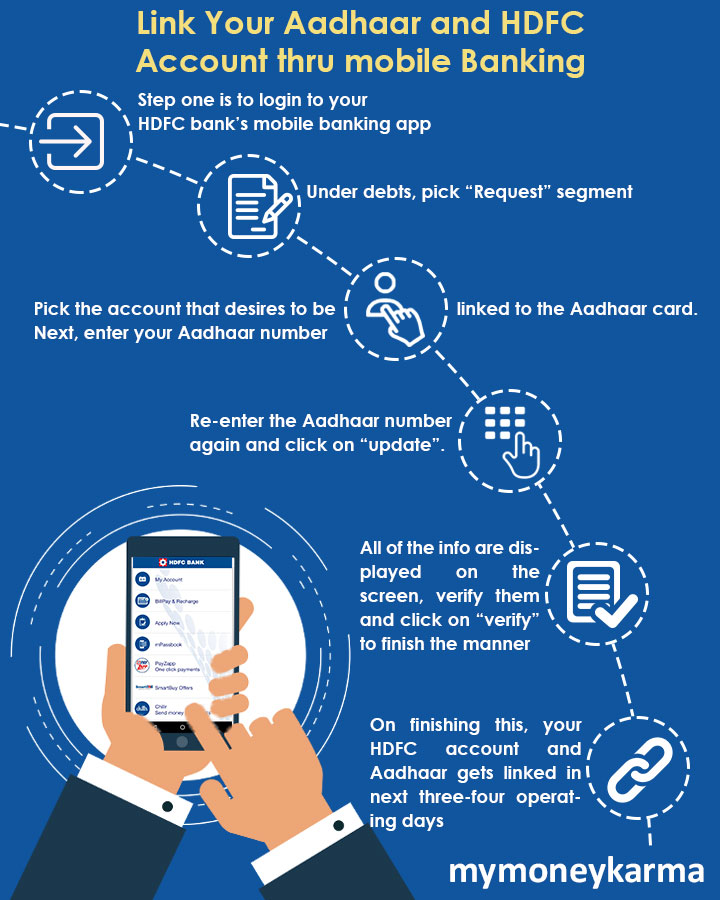 Link Aadhaar with HDFC account by visiting the nearest ATM
Step 1: Once you initiate your transaction, a message prompts on the screen that says "link Aadhaar to your bank account"
Step 2: Choose "yes" to continue further
Step 3: Enter your 12-digit Aadhaar number to complete the linking of Aadhaar with HDFC account
Link Aadhaar Card with HDFC Bank Account Online
Step 1: Once you login to your HDFC internet Banking account, click on "link Aadhaar card details"
Step 2: You'll be directed to an online form, where you have to enter the necessary details
Link Aadhaar and HDFC Account through Phone Banking
For Linking Aadhaar and HDFC bank via mobile banking, you need to activate the mobile banking IVR and subsequently choose 'bank account' option on IVR.
Step 1: Choose the language, after which, select "choice 1"
Step 2: You need to validate through "customer identification and TIN" or "Debit Card and PIN"
Step three: Next, select "alternative 6", and then "alternative 2" for requests
Step four: Then, for updating Aadhaar number, select "choice eight" and then re-enter the Aadhaar number
Step 5: IVR will send you a message that your Aadhaar has been updated in subsequent three-four days
Step 6: After you complete these steps, you'll receive a confirmation message regarding the request and the date
Link Aadhaar with HDFC bank Account through SMS
Follow these steps to complete the linking:
Step 1: In your Aadhaar registered mobile, type AS space account number
Step 2: Send the SMS to 5676712
When you send the message, you will receive a confirmation message to your mobile.
Advantages of Linking Aadhaar with HDFC Bank Account
Mentioned below are the advantages of linking aadhaar with the bank account:
Direct transfer of LPG subsidy into the bank account
Receive the advantages of scholarships and pension credited to the HDFC account
Take the benefits of Aadhaar-Enabled Paying Systems (AEPS)
How to test if Aadhaar is linked to the bank account?
HDFC customers now have the additional option to cross-check if their bank account is connected to their 12-digit Aadhaar number. There are three approaches to test if the account is connected to the aadhaar through Netbanking, mobile banking and visiting the branch.
Checking through internet banking:
Checking the status of Aadhaar linking with the bank account can be completed seamlessly. Here are the steps that will help you test the linking:
Step 1: First, login to your net banking account by typing the username and password
Step 2: Select 'account,' after which, click on "Request"
Step 3: Subsequently, click on "View/replace Aadhaar number" to check the current status of linking
Checking through mobile banking:
Step 1: Login to your mobile banking portal with the username and password
Step 2: Choose "accounts" from the list
Step 3: Click on "Request" and then pick out "View/update Aadhaar number" to know your Aadhaar and bank account linking
Verification through telephone banking:
Customers who need to verify their application through mobile banking should contact the 24/7 customer care or can write to support@hdfcbank.com
FAQs on Linking Aadhaar with HDFC Account