RBL Bank Credit Card Bill Payment
RBL Bank has customized credit cards to cater to various needs of people, such as shopping, travel booking, hotel booking, and corporate cards as well. There are different rewards and benefits associated with RBL Bank credit cards. Ratnakar Bank Limited (RBL) offers various methods of credit card bill payment for your convenience.
Online Method

Offline Method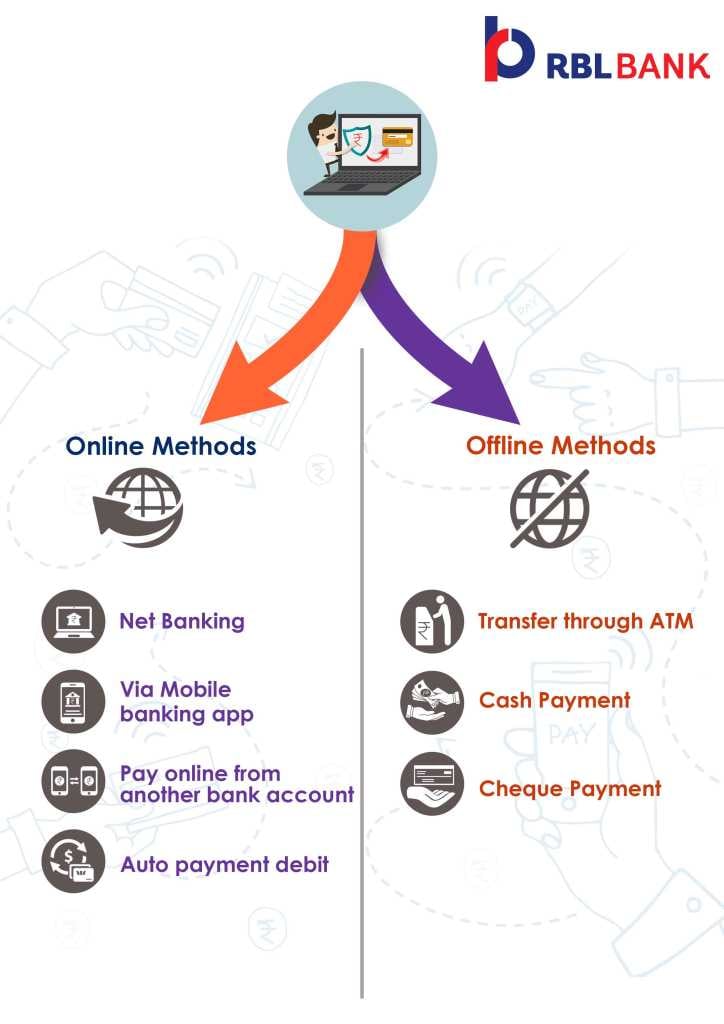 Online RBL Bank Credit Card Bill Payment Modes
NEFT
Here are the steps that you need to follow:
Sign in to your net banking portal with your username and password.

Select the mode of payment.

Register the RBL bank credit card as a beneficiary with the following details:
Payee name - Enter your name as specified on the RBL credit card.

Payee account number - Write down your 16-digit card number.

Name of the bank - RBL Bank

Branch location - Enter your branch address.
RBL Net Banking
This mode of payment applies exclusively to RBL account holders. The amount will be released and the payment acknowledgment will be processed on the next day. Here are the steps to follow:
Log in to the RBL net banking portal.

Click on the 'RBL Credit Card Payment' option.

If you are paying for the first time, you should enter the card details.

Specify the amount and click on 'Pay.'

If you want to check the minimum amount due and the total outstanding amount, then click on the 'Credit Card Summary' tab.
Debit Card
Visit RBL Bank's official website.

Click on the 'Make Payments' tab.

Then scroll down and click on the 'Credit Card Payments' option.

Choose to pay 'Using Debit Card.'

You can pay with a debit card via any of the two payment gateways - Pay U, Razorpay, or Bill Desk.

Select your preferred payment gateway.

Enter the details of your contact and RBL bank credit card number.

Choose any of the amount options - Total amount due, minimum amount due or other amounts.

Click on 'Submit' to make the payment.
RBL MyCard Mobile App
Download the RBL MyCard Mobile App on your phone from google store or app store and make the payment from any of your bank accounts.
Standing Instructions
You can use the auto-debit feature to transfer funds from your RBL Bank savings account to the credit card account. Here are the steps to follow:
Fill out the form and send it via email to cardservices@rblbank.com for activating the facility.

Please note that you will have to link your credit card to your savings account for using the auto debit feature.
Offline RBL Bank Credit Card Bill Payment Modes
If online payment is not convenient for you, then pay your credit card bill through any of the following offline methods:
Cash
Visit the nearest RBL Bank branch and make the payment there.

You will have to pay a fee of Rs.250 plus GST for making cash payment.

Though your payment will be processed on the same day, however, you will receive a confirmation on the next day.
Cheque
Credit card bill can also be paid through cheques, which you can address in favor of your RBL bank 16-digit card number.

After writing the cheque, deposit it at any nearest RBL Bank branch.
National Automated Clearing House Facility (NACH)
NACH facilitates automatic payment of the credit card bills.

First of all, you need to link any bank's account to your RBL card to initiate the process of NACH.

Then submit the NACH form with all the essential details at the bank if you haven't activated this feature.

You can also send the form by courier to the correspondence address mentioned on the form.
FAQs
If a wrong credit card number has been entered, what should a customer do?
The credit card number should be entered twice for security purpose. If it is still entered incorrectly, then the customer should call the customer care.
How can offline payments be made?
It can be paid by cash or cheque either at the nearest ATM or nearest bank branch.
How can credit card bill payment be made through mobile?
For paying credit card bill through your mobile, you have to download the bank's app, go to the credit card section and initiate the bill payment.
What will be the consequences if I do not pay my credit card bills on time?
RBL Bank levies a late payment fee of 15% on the total outstanding amount.