Lakshmi Vilas Bank Credit Card Customer Care
Lakshmi Vilas Bank is a private sector commercial bank which was established in 1926. Its headquarters are in Karur region of Tamil Nadu. The bank has nearly 500 branches spread across the country.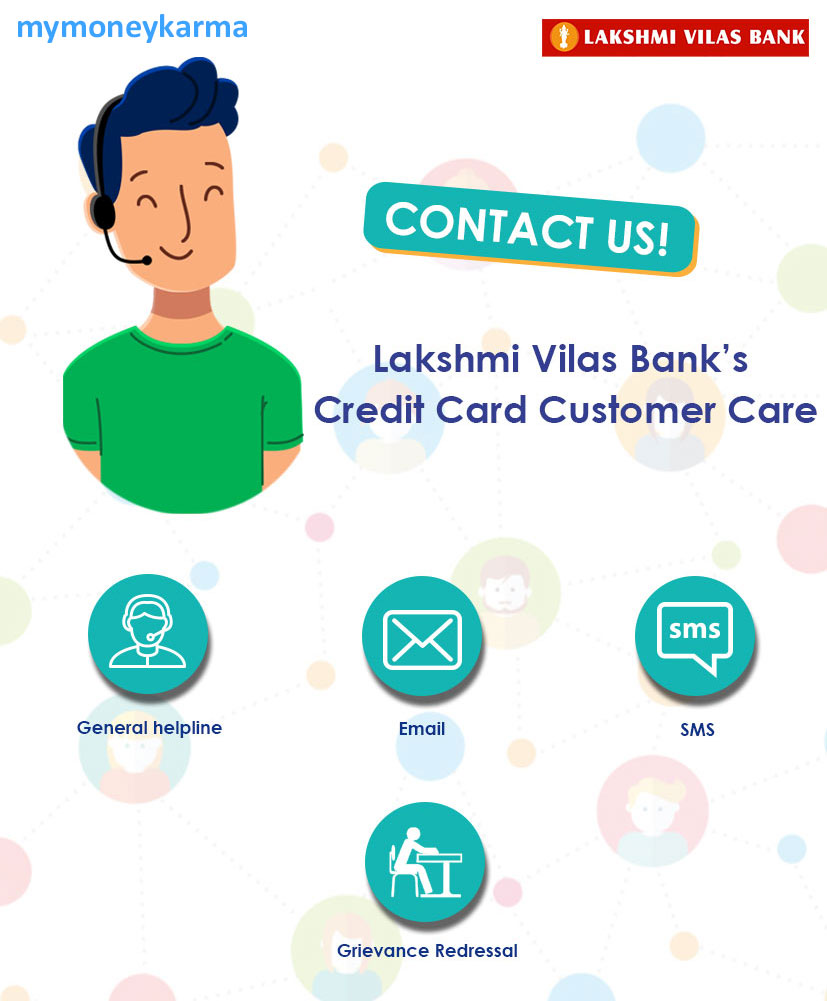 General helpline: For any general inquiry or issues regarding Credit Card Services and schemes, you can contact the general customer care helpline by calling 1800 - 425 - 2233. If you have lost your credit card, or it has been stolen, immediately call on this number to block your card. This number can also give you other information regarding credit cards like credit statement, credit limit, billing cycle, etc.
Email: Write your queries to atmcard1@lvbank.in, atmcard2@lvbank.in for a quick response from the bank's Customer Care team.
NRI Helpline: NRI customers of Lakshmi Vilas Bank can either call the general Customer Service helpline or by writing an email to nricell@lvbank.in. The following is the address where NRI customers can reach the bank's NRI specific unit:
XXVII/476, 1st Floor, Pottekkatt Buildings,
Round East, Thrissur - 680001,
Thrissur Dt., Kerala.

For Grievance Redressal
The primary contact for any grievance would be the Customer Care department. You can call the toll-free numbers, send an email or visit the branch to seek assistance. You may also try out the bank's online form. You will receive a complaint number or reference number as you register a complaint. Keep it safe as you need it for all future correspondence or to track the status of your complaint.
If the customer care team fails to help you with your problem, contact your Branch Manager.
In case you are unhappy with the solution provided, approach the Nodal Officer of the respective region. Following is a list of Nodal Officers for different regions within the country.
Region

Email ID

Operating in:

Vijayawada

Assistant Vice President,

The Lakshmi Vilas Bank Ltd.,

Regional Office, No. 31-23-1A,1st floor

Beside BSNL Bhavan, Chuttugunta, Eluru road

Vijayawada- 520 004

Andhra Pradesh

New Delhi

Vice President,

The Lakshmi Vilas Bank Ltd.,

Regional Office, No. 406 to 410, 4th Floor,

Narang House, K G Marg.

New Delhi - 110001

Chhattisgarh, Jharkhand, Odisha, Rajasthan, Uttar Pradesh, Delhi, Haryana, West Bengal

Mumbai

Senior Vice President,

The Lakshmi Vilas Bank Ltd.,

Regional Office, Sterling Centre, 2nd Floor,

Andheri -Kurla Road, Chakala,

Mumbai -400 093, Maharashtra.

Gujarat, Madhya Pradesh, Maharashtra

Bangalore

Vice President

The Lakshmi Vilas Bank Ltd.,

Regional Office, No.93, 2nd Floor, T.K.N. Mansion,

K. H. Road (Double Road),

Opp. To KSRTC Head Office, Bangalore -560 027

Karnataka

Coimbatore

Vice President

The Lakshmi Vilas Bank Ltd.,

Regional Office, LVB Platinum Jubilee Building,

68 Oppanakara Street, II Floor

Coimbatore - 641001, Tamil Nadu

Kerala

Chennai

Vice President

The Lakshmi Vilas Bank Ltd.,

Corporate Office, LVB House,

4, Sardar Patel Road, Chennai - 600 032,

Tamil Nadu.

Tamil Nadu, UT of Puducherry

Hyderabad

Vice President

The Lakshmi Vilas Bank Ltd.,

Regional Office, No: 2B & 2C, Ground Floor,

Aditya Trade Centre, Ameerpet,

Hyderabad - 500 038

Telangana