Bank of Baroda Credit Card Bill Payment
Bank of Baroda offers a multitude of payment options to customers, enabling them to perform credit card bill payments without any hassles. Users can choose any method as per their convenience and pay outstanding bills before the due date.
Bank of Baroda provides multiple options in both modes of payment, online or offline to its customers.
Online Method

Offline Method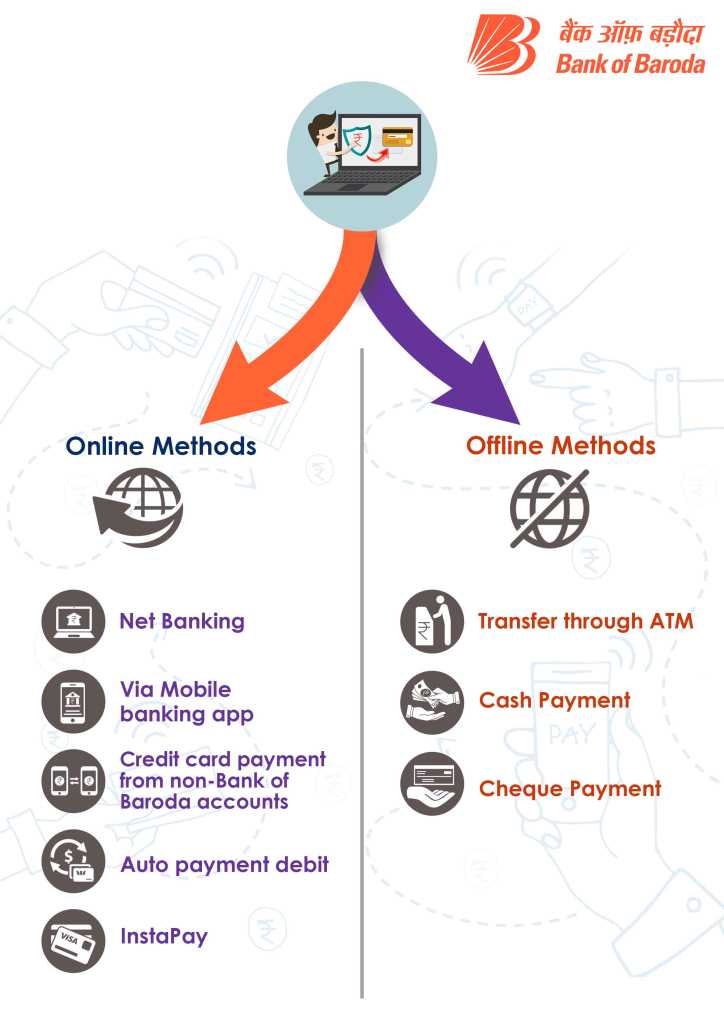 Online Modes of Bank of Baroda Credit Card Bill Payment
BillDesk
BOB credit card customers can make payments through BillDesk, where they can register for free. The customers should have an online ID to use this facility, which can be taken from the credit card bill. Currently, BillDesk offers this service only in a few cities.
Online Payments
You can also make payments by logging into your net banking account after registering on the web portal. For signing in, use the username and password that was issued to you by the bank while opening your account. Also, you can change the net banking password as per your convenience.
Visa Bill Pay
It offers a simple and convenient platform to make payments towards any Visa BOB credit card. You can either make a one-time payment or set the standing instructions on Visa Bill Pay to make scheduled recurring payments towards the credit card account.
Insta Pay
The credit card bills can be repaid instantly using the "BOB Cards Insta Pay service" without even logging into the BOB portal. Users get multiple options to choose from as more than 50 banks participate in this service. For making a payment, the customer needs to select Insta Pay, enter the BOB credit card number, verification code, confirm the card holder's name, enter the bill amount, mobile number, and email address; then choose the preferred bank through which the payment has to be paid. Once the transaction is completed successfully, the customers will get a confirmation receipt. The amount paid by the customer will reflect in the card account within two working days.
Electronic Fund Transfers – NEFT
The customer can also pay credit card bill through NEFT transfers up to an amount of Rs. 1,00,000.
RTGS Payments
RTGS is another method through which you can make a credit card payment for up to an amount of Rs. 1,00,000. While performing RTGS transactions, mention the IFSC code and the 16-digit credit card number in the beneficiary account field.
Offline Modes of BOB Credit Card Bill Payment
Bank of Baroda customers can use the following offline payment modes -
Cash
Cash payments can be made at any Bank of Baroda branch by mentioning the sixteen-digit credit card number on the deposit slip. Once the deposit slip is submitted, you will receive an acknowledgment receipt from the bank.
Cheque
Credit card bill payment can also be made by depositing a check at any Bank of Baroda branch.
Auto Debit
If you are bad at keeping a tab on due dates, then use the auto debit facility to make credit card bill payments from your savings or current accounts. For activating the Electronic Clearing Service, customers should submit the auto debit request form to the nearest Bank of Baroda branch.
FAQs
How can the payment status can be tracked online?
It can be checked on the Bank of Baroda website by selecting 'View payments made' tab. Other payments can be checked under 'Bill pay' on home page in alerts section.
How can receipt of payment may be generated?
Click 'Show payments made' to view all the past payments and select the particular bill for generating receipt.
How does Bank of Baroda schedule auto debit payments?
Auto debit payments are processed on the planned date, with the amount being deducted as per the set standing instructions. In case the bank has a holiday on the scheduled date; the required amount will be debited on the next working day.
Can BOB customers track the status of their payments online?
Yes, the status of completed transactions can be tracked under the 'View Payments Made' tab. Other 'Pending' payments can be seen under the 'Alerts' section.